Construction firms apologise over blacklisting of workers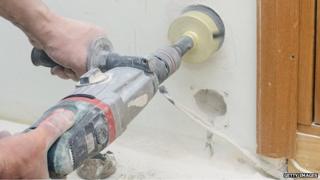 Senior directors of three of the UK's largest construction companies have apologised to MPs investigating the "blacklisting" of employees.
Representatives from Balfour Beatty, Laing O' Rourke and Vinci Construction were appearing before the Scottish Affairs committee.
They confirmed their firms had used the services of The Consulting Association.
It ceased operations after a raid by the Information Commissioner's Office in 2009.
The organisation collated information on thousands of workers, many of whom were said to have been blacklisted by building firms over their trade union links and health and safety concerns.
Union members
During a testy series of exchanges with MPs, the three directors told the committee that they condemned the practices and that their participation and membership of the The Consulting Association had been wrong.
Nick Pollard, chief executive of Balfour Beatty, said that, pre-2009, his business had engaged in practices that were "morally wrong" and which "in hindsight we deeply regret and wish we had never done".
He confirmed hundreds of workers had been vetted but denied that his firm had engaged in "blacklisting" solely of union members.
Mr Pollard also admitted there had been vetting of people who were deemed to be "disruptive".
'Extremely unfortunate'
Andrew Ridley-Barker, managing director of Vinci Construction, said he "apologised for the activities and for any harm that it may have caused any individuals".
Callum Tuckett, group finance and commercial director at Laing O'Rourke, said his company's actions and vetting of workers had been "completely unacceptable".
He added: "We do not condone it in any way whatsoever. It is extremely unfortunate that it has adversely affected some people."
Trade unions are seeking a full public inquiry into blacklisting and there are legal proceedings taking place against many of the companies involved.
The definition of blacklisting is at the core of the proceedings.