Scottish independence: Former Labour MP Peter Kilfoyle backs Yes vote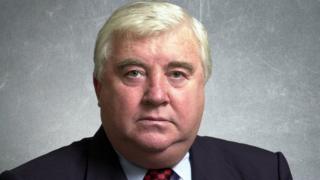 A former Labour government minister has endorsed Scottish independence.
Peter Kilfoyle told BBC Scotland that it was vital for Scotland and the English regions to loosen London's grip on power.
The former Liverpool Walton MP was speaking ahead of a speech by Scottish First Minister Alex Salmond in the city.
Labour has argued that Scots should vote "No" and then help elect a Labour government in the UK general election.
Mr Kilfoyle suggested that the Labour leadership's opposition to independence was motivated by a desire to maintain Scottish Labour MPs at Westminster.
And he said the nationalists were pushing a message which was "positive and aspirational" while the pro-UK campaign had been "very, very negative".
Mr Kilfoyle added: "As an issue it is bigger than any political party. It is about the aspirations of a country, and that is what is important to me. It (independence) will basically enable Scots to make decisions for themselves away from London.
"The sooner that people realise that this centralised country we call the United Kingdom actually mitigates the interests of people in the regions of England as well as of the countries of these British Isles, I think it will be to the benefit of all of us".
Mr Kilfoyle resigned from Tony Blair's government, where he had been a junior minister in the Ministry of Defence, in 2000, arguing that Labour was neglecting its roots.
'Labour values'
He became a vocal backbench critic of the Labour leadership until standing down as an MP ahead of the 2010 general election.
Earlier this month, another former Labour minister - Leslie Huckfield, who represented the Nuneaton constituency at Westminster but now lives in Perthshire - also said he was backing a "Yes" vote in the referendum.
Mr Kilfoyle's endorsement was warmly welcomed by Mr Salmond, who was making his last speech in England before September's referendum on Scottish independence.
Mr Salmond said: "Peter Kilfoyle is a Labour stalwart, and a much respected figure. This is a significant endorsement for the independence campaign - and it shows that a Yes vote is in line with traditional Labour values.
"Peter understands that what is happening in Scotland is a catalyst for change elsewhere. We've now had a range of key Labour figures endorsing Yes."
In his speech at a lunch organised by the FT newspaper on Thursday afternoon, Mr Salmond said that inequality in the UK had grown hugely under successive Westminster governments.
Scottish independence would help to redress that inequality gap while also creating an economic counterweight to London to the benefit of the whole of the UK, he argued.
Mr Salmond said: "The UK now has the highest levels of regional inequality in the European Union.
"Scottish independence will provide a powerful example for those elsewhere in the UK, who are looking at how to change the current system; who want to see a model of growth which is fairer, more sustainable and more resilient than the one being pursued at Westminster.
"In the late nineteenth and early twentieth centuries, Liverpool, together with cities such as Manchester, Birmingham, Leeds and Newcastle had real political power to, as well as economic power.
"Since 2007, London's economy has grown approximately twice as fast as the rest of the United Kingdom's."
Mr Salmond claimed that nothing the UK government was proposing would "even come close" to addressing the scale of the problem.
And he said that local authorities and business organisations in the north of England would be invited to participate in a Scottish economic forum after the referendum aimed at rebalancing the economy.
He said: "It is a practical demonstration of co-operation and partnership - a partnership which will be strengthened further by an outward looking, prosperous and independent Scotland."
Ahead of the speech, Mr Salmond argued that only independence could protect the Scottish NHS from the UK's government's "privatisation agenda".
The NHS is fully devolved to the Scottish Parliament, but Mr Salmond argued that cuts to its budget south of the border also impacted on Scotland.
"Scotland is one of the wealthiest countries in the world, with strong public finances," he said. "But, under the Westminster system, cuts to spending in England automatically trigger cuts in Scotland."
Responding to the remarks by by Mr Kilfoyle, Tom Greatrex, the Labour MP for Rutherglen and Hamilton West, said: "Sadly, Peter Kilfoyle seems to have confused devolution and decentralisation within the UK and separation from the UK.
"The Labour Party devolved power to Scotland when we set up the Scottish Parliament, when we wrote the 2012 Scotland act and will continue to devolve power to the nations, regions and cities of the UK after we win the 2015 general election, decentralising within a pooling and sharing union to support communities throughout the UK.
"That is what many across England want to see, including Liverpool's city Mayor, Joe Anderson. Peter Kilfoyle seems to want the same thing without appreciating Alex Salmond's centralising of power since 2007 demonstrating that nationalists are not interested in devolution."
Responding to Mr Salmond's speech, Scottish Labour MP Ian Murray said: "Firms in Scotland have barrier-free access to a UK single market of more than 63 million people, rather than just 5 million people in Scotland. Where is the sense in creating a barrier between Scottish businesses and their customers elsewhere in the UK?
"As part of the UK we can have the best of both worlds for Scotland. We can have our strong Scottish Parliament, with the guarantee of more powers for Scotland, backed up by the strength, security and stability of being part of the larger UK economy.
\"Alex Salmond wants us to put that at risk on the strength of nothing more than his empty promises. We should say no thanks to independence in September."