Scottish independence: Pensioners could be £260 a year richer, says Nicola Sturgeon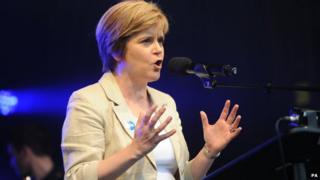 Pensioners in Scotland could be £260 a year better off after independence, Deputy First Minister Nicola Sturgeon has said.
Ms Sturgeon said those receiving the single tier pension from 2016 would get £160 a week if there is a "Yes" vote to independence in September's referendum.
She estimated that payments could be about £155 a week as part of the UK.
UK Pensions Minister Steve Webb said the Scottish government had failed to set out how pensions would be funded.
The UK Department for Work and Pensions (DWP) plans to reform the state pension into a new single tier pension, to be introduced in April 2016.
UK ministers have not yet outlined the level of the new pension, but DWP documents have said it would be set above the basic level of means-tested support, currently £142.70 per week for a single pensioner.
Read more: What are the issues around pensions and the Scottish referendum?
Westminster has also pledged to continue the "triple lock", system, which ensures the state pension goes up by whichever is higher - inflation, wages or 2.5%.
Ms Sturgeon estimated that the UK single tier pension could be set at £155 per week, adding: "With independence, new pensioners receiving the single tier pension will get £160 per week.
"But while the Scottish government has confirmed this rate, the Westminster government is refusing to come clean on how much the single tier pension will be in 2016.
"Looking at what the UK Government has said, we estimate that new pensioners in Scotland will be around £5 per week - or £260 a year - better off than they would be as part of the UK."
Ms Sturgeon reaffirmed the Scottish government's commitment to the triple lock and promised a review of UK government plans to increase the retirement age to 67, if Scots voted for independence.
The UK government said pensions and benefits would be more affordable if Scotland remained part of the Union.
Mr Webb said: "It's easy to promise people higher pensions and earlier retirements when you don't give any consideration to how it's going to be paid for or what other public services will have to suffer as a result.
"Until the pro-independence movement can explain how all their various promises will be funded, they will always lack credibility."