Scottish independence: Whisky boss says he has not been bullied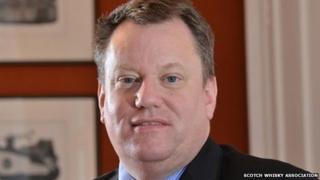 The current chief executive of the Scotch Whisky Association (SWA) has said no-one has attempted to bully him during the referendum campaign.
David Frost - who took up his role in January - said he had been involved in "vigorous discussions" with both sides in the debate.
But he said these had always been conducted in a "reasonable manner".
His predecessor, Gavin Hewitt, has accused the SNP of attempting to "neuter" business opinion.
Mr Hewitt's allegation has been strongly denied by the nationalists.
Writing in the Scotsman newspaper, Mr Frost, a former British diplomat, described the independence debate as "passionate, robust and committed", but said that was how it should be.
He added: "I have had vigorous discussions with all sides of the debate, whether it's the UK government, the Scottish government, or political organisations. All sides have forcefully made their case to us about how this debate impacts Scotch Whisky, but those conversations have always been constructive.
"Admittedly, sometimes they have been "frank and constructive", as diplomats say, but I have certainly never considered any of them to go beyond the bounds of what is reasonable."
He added: "Has the Scotch Whisky Association been pressed into silence in public? Absolutely not, and no-one has suggested to me that we should be.
"Despite the strong feelings on either side of the debate, we have felt able to participate in what we regard as a constructive manner."
Mr Frost said he had always been given a "fair hearing" when discussing his concerns with pro-independence supporters.
'Working with government'
He added: "That may be because the industry has also always been clear that, whatever the result, we are committed to working with government in the future to deliver economic growth and prosperity for Scotland and all of us who live here."
Mr Frost has previously said the industry was seeking assurances over what he described as the potential "risks" of independence.
But he said Scotch whisky would continue to succeed regardless of the result.
Mr Frost's article was welcomed by the SNP's Westminster leader Angus Robertson, who said the "measured and sensible" contribution stood "in stark contrast to the false claims peddled by the No campaign recently".
In a Channel 4 documentary broadcast earlier this week, Mr Robertson was accused by former SWA chief executive Mr Hewitt of "trying to neuter business comment".
Mr Hewitt told the Dispatches programme: "He [Mr Robertson] and the SNP have regularly tried to get the message to the Scotch Whisky Association that the Scotch whisky industry should stay out of the independence debate.
"There was a genuine fear that in fact if we were seen to scupper by coming out publicly against independence, there would be retribution down the track."
At the time, Mr Robertson, who as MP for Moray represents a number of Scotch Whisky distilleries, said: "I totally refute the allegations, especially given that both Gavin Hewitt and his successor, David Frost, have both said to me that they don't take a position on constitutional issues.
"Mr Hewitt publicly endorsed the case for a 'No' vote last month, which of course he is perfectly entitled to do."