Scottish independence: STV confirm Darling and Salmond TV debate date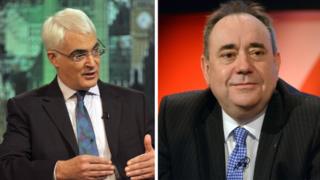 A televised referendum debate between Alex Salmond and Alistair Darling will go ahead next month after a dispute over dates was settled.
Broadcaster STV confirmed the head-to-head would take place on 5 August.
First Minister Mr Salmond will put the case for Scottish independence and Mr Darling, chairman of Better Together, will argue for the UK to stay together.
The date was agreed on Wednesday afternoon following weeks of wrangling between the two sides.
The people of Scotland will go to the polls on 18 September when they will be asked the "Yes/No" question: "Should Scotland be an independent country?"
---
A referendum on whether Scotland should become independent is to take place
People resident in Scotland will be able to take part in the vote, answering the "yes/no" question: "Should Scotland be an independent country?"
The referendum will take place on Thursday 18 September, 2014
Go to the BBC's Scotland Decides page for analysis, background and explainers on the independence debate.
---
Ahead of the vote, STV had been negotiating with the rival campaigns over a live leader debate.
The two sides failed to agree on an initial 16 July proposal, and then there was a fall-out over a revised offer of 5 August.
Mr Salmond had wanted to debate with Prime Minister David Cameron on the commercial station in July. But Better Together said it had agreed with STV that former Labour chancellor Mr Darling would be going up against the SNP leader.
Negotiations stalled and the pro-Union camp went on to criticise the Glasgow-based broadcaster for "repudiating" the July date and suggesting 5 August.
Deal finalised
However, both sides resumed discussions and have finalised the debate deal.
A spokesman for Mr Salmond said: "We accepted this invitation weeks ago and are delighted that Alistair Darling has finally done likewise and accepted the challenge of debating with the first minister on live TV, in front of a large audience of voters.
"Mr Darling will be acting as a shield for the prime minister - who we will continue to pursue for a debate - and as such he will be defending the Tory policies of David Cameron's government."
A spokesman for Better Together said: "We are delighted that there will be a live, televised debate between the leaders of both campaigns.
"Alex Salmond will now finally have to answer questions on the pound, pensions and public services that he has spent the last two years dodging."
The two-hour live TV debate, to be hosted by STV political editor Bernard Ponsonby, will be broadcast in front of a 350-strong audience from the Royal Conservatoire of Scotland in Glasgow.