Scottish independence: Campaign donation figures cause row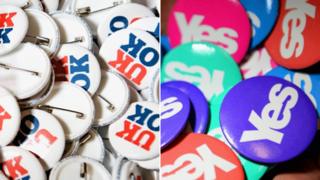 Both sides in the Scottish independence debate have traded insults, as campaign donations between December last year and June 2014 were published.
The pro-Union Better Together Campaign received £2.4m, while Yes Scotland, which wants independence, got £1.1m.
Better Together accused its rival of running front organisations to get round funding rules.
Yes Scotland said the pro-Union backers were funded by wealthy landowners and "rich Tories" without a vote.
The donation figures, for the period between 18 December 2013 and 26 June this year, were published by the Electoral Commission ahead of the 18 September independence referendum.
ANALYSIS - By BBC Scotland political editor Brian Taylor
"The ground is familiar. The accusations, in outline, have been heard before. But the latest dispute over donations in the referendum is perhaps running at a slightly higher temperature.
"Better Together has repeated its claim that Yes Scotland is continuing to 'funnel cash' to what are in effect front organisations in that they are "working together" with the lead campaign, potentially contrary to Electoral Commission rules.
"To be clear, organisations can work together. But, if they do so, this can have an effect on the money they can spend.
"The claim is resolutely denied by Blair Jenkins from Yes Scotland who says his organisation has respected the rules from the outset and continues to do so.
"Mr Jenkins says the complaint is 'a bit rich coming from a movement that is funded largely by wealthy landowners, bankers and rich Tories many of whom live outwith Scotland and don't have a vote in the referendum'.
"Told you the temperature was rising."
All registered campaigners must declare donations of more than £7,500.
The largest to the Better Together campaign so far was £1m, from Harry Potter author JK Rowling in June this year.
Drinks company William Grant and Sons has donated a total of £185,000 to those campaigning for the Union - with £135,000 going to Better Together and £25,000 to both the No Borders Campaign group and individual campaigner Angus MacDonald.
Yes Scotland received £1m from husband and wife Colin and Chris Weir, who scooped £161m on the EuroMillions Lottery in 2011.
Bus tycoon Sir Brian Souter, chairman of the Stagecoach Group, donated £100,000 to two pro-independence groups - Christians for Independence in January and Business for Scotland in May.
Better Together campaign director Blair McDougall said the latest figures "did not paint the full picture of the generosity of the thousands of Scots who have made a contribution towards keeping Scotland in the UK".
He added that when you include thousands of smaller donations more than £4m had been raised during the period.
Mr McDougall said: "What these figures tell us is that the Nationalists simply don't have a broad base of support. In addition to the wide range of bigger donations of £2.4m reported today, we are proud to have raised an additional £1.6m in smaller donations."
The campaign boss also claimed that Yes Scotland was doing "whatever it can to funnel cash to front organisations".
Electoral Commission rules state that spending by an organisation working with an umbrella campaign group, such as Yes Scotland, must come off the £1.5m spending total for that umbrella group.
The rule was put in place to stop umbrella groups setting up front organisations to get around the legal spending limits.
The head of the Yes Scotland campaign group, Blair Jenkins, hit back saying Better Together had made "false and completely unsubstantiated allegations".
He added: "Yes Scotland has followed the Electoral Commission rules from day one and continue to do so.
"This is a bit rich coming from a movement that is funded largely by wealthy landowners, bankers and rich Tories many of whom live outwith Scotland and don't have a vote in the referendum."
Mr Jenkins said he was pleased with the response from "our massive grassroots support".
He went on: "We still have a long way to go and hope that our supporters continue to help fund us to take the campaign over the finishing line with a resounding Yes vote on September 18."
Campaign donations and loans
Reporting period
Publishing dates
18 December 2013 to 26 June 2014
Tuesday, 8 July
27 June to 24 July
Tuesday, 5 August
25 July to 21 August
Tuesday, 2 September
22 August to 5 September
Monday, 15 September