Scottish independence: 'UK cuts alternative' laid out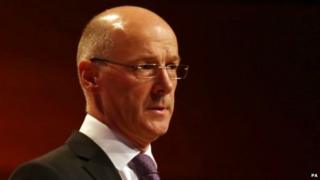 Public spending in an independent Scotland would be maintained, along with an alternative to "Westminster cuts", Scottish ministers have said.
Holyrood Finance Secretary John Swinney said a "Yes" vote in the September referendum would allow a Scottish government to focus on growth.
Meanwhile Alistair Darling, leader of the pro-Union Better Together campaign focused on business.
He said a vote for the Union on September 18 was better for jobs.
Mr Swinney, speaking in Dundee, said an independent Scottish government could seek to provide £1.2bn of additional resources in 2017-18, and £2.4bn more in 2018-19.
This, he argued, was in contrast to Westminster government plans for a further £25bn in UK-wide spending cuts after the 2015 General Election.
"Scotland is one of the wealthiest countries in the world, and we will start life as an independent nation with huge economic potential," said the finance secretary.
"Future Scottish governments would have the opportunity to match their spending and tax policies to the preferences and priorities of the people of Scotland.
"With the powers of independence we can ensure we use that wealth to boost the economy, create jobs and support public spending whilst reducing the deficit through faster economic growth and increased revenues, not spending cuts."
Mr Darling's pitch to voters came after Midlothian engineering firm MacTaggart Scott, which counts the Ministry of Defence as its oldest and biggest customer, said the "risks of separation far outweigh the benefits".
The former UK chancellor said: "This is a significant intervention from MacTaggart Scott and highlights the benefits for jobs and business to Scotland from being part of the UK.
"Having access to a defence budget of several billions in the UK means employers like MacTaggart Scott can win big contracts and secure the jobs of thousands of Scots.
"The only way to secure the future of shipbuilding in Scotland is to say 'no thanks' to separation in September."