Scottish independence: Alex Salmond warns of austerity threat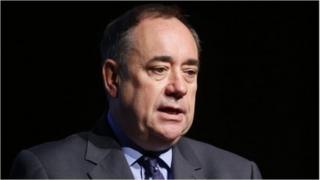 The first minister has warned that rejecting independence would leave Scotland subject to continuing economic austerity.
Alex Salmond said that spending cuts planned by the UK government would do further damage to public services.
Mr Salmond argued it was "vital" for Scotland to pursue an alternative path.
He made the comments in a letter to the Chief Secretary to the Treasury, Danny Alexander.
Mr Alexander claimed in a letter to Mr Salmond at the weekend that spending plans set out by Scottish Ministers would put Scotland on a different economic path from the rest of the UK - and make a currency union impossible in the event of independence.
The Scottish Finance Minister John Swinney has outlined plans to boost public spending in Scotland by 3% in each of the first three years after independence.
This contrasts with a figure of 1% planned by the Chancellor, George Osborne.
The Scottish expenditure would be funded by borrowing. The objective would be to grow the economy and thus reduce the deficit in a "sustainable" fashion.
Mr Alexander argued that this level of borrowing would mean that the economies of Scotland and the remainder of the UK would be divergent.
This explained, he argued, why he and his counterparts in other UK parties had ruled out a currency union.
But, in his letter of reply, the first minister argued that the austerity programme pursued by the UK government has had a "detrimental effect both on the economy and on public services."
Spending plans
He said public services in Scotland have had to cope with a 26% reduction in capital spending "at the very time we should have been investing in the economy".
Mr Salmond noted that Mr Alexander presumed that the UK will be in budget surplus by 2018/19 after a period of deficit.
According to Mr Salmond, this also presumed that the current spending plans by the UK government will be maintained whoever wins the UK election.
Mr Salmond said in his letter to Mr Alexander that this was a "significant political admission and blunder".
He concluded: "Your letter leaves the Scottish electorate with little option but to conclude that anything other than a vote for independence would be a vote for continuing Conservative austerity."
Responding to Mr Salmond's letter, a Treasury spokesman said: "Yet again the first minister has failed to address any of the questions the chief secretary put to him.
"Asked to lay out his currency plan for a separate Scotland all he has done is thrown sand in the air and ignored the fact that the UK government's economic policies are working. The deficit is down and the UK, including Scotland, is growing faster than any other country in the G7."