Scottish independence: Ministers make rival claims on fishing industry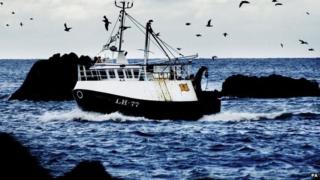 Scottish and UK ministers have made rival claims over the best way to secure the future of Scotland's fishing industry.
Richard Lochhead and George Eustice were responding to a letter from the Scottish Fishermen's Federation.
Mr Lochhead said independence was the only way to protect fishing quotas and safeguard the industry's future.
Mr Eustice argued Scotland benefits from the UK market and negotiating strength in the EU.
The Federation's chief executive, Bertie Armstrong, wrote to both ministers putting queries about what Scottish independence might mean for Scotland's EU membership and the management of the fishing industry.
Mr Armstrong insisted that the industry body was "not seeking to take a position on independence".
'Positive outcomes'
Mr Eustice, the UK Fisheries Minister, responded that Scotland "benefits from being part of one of the largest member states in the EU" and claimed successive UK governments had negotiated "positive outcomes" for the industry.
"Recent examples have included the reformed EU Common Fisheries Policy (CFP), where the UK successfully secured a new model of decentralised decision-making which was a Scottish priority," he wrote.
He added that UK ministers had also prevented a cut in days at sea, secured an increase in the North Sea cod quota and achieved a deal with Norway and the Faroe Islands on mackerel fishing.
He argued that Scotland already had "considerable autonomy in tailoring rules to support its industry" within the UK.
'Untold damage'
Mr Lochhead, the Scottish Rural Affairs Secretary, disagreed, attacking what he saw as "the UK government's decision to take Scotland into the CFP under terms that have caused untold damage to our fishing communities".
He added: "It's difficult to conclude by any measurement that successive UK governments have negotiated good deals in relation to fisheries funding.
"An independent Scotland of whatever political colour would in my view make this and other fisheries issues far greater negotiating priorities."
He claimed that Scotland would be entitled to a greater share of EU financial support as an independent country and could negotiate "from a position of strength" with the EU and the rest of the UK.
EU membership
The Federation also raised the likely timeframe for Scotland's EU membership should voters back independence in September's referendum.
The Scottish government has insisted that membership can be negotiated from within the UK before Scotland became independent 18 months after a "Yes" vote, while UK ministers have argued that EU membership would not be guaranteed and could take several years.
In its letter, the Federation asked: "Taking 18 months as potential best case, what length of time is a reasonable worst case?"
In his reply, Mr Lochhead repeated the Scottish government's assertion that 18 months was "a realistic timeframe".
But Mr Eustice wrote: "Accession negotiations for Poland, Hungary, the Czech Republic, Estonia, Slovenia and Cyprus took over six years, Croatia's nearly eight."