Scottish independence: 'Short guide' published by Scottish government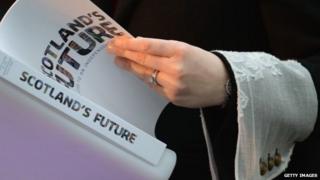 A "short guide to independence" is to be published by the Scottish government and distributed to every household in Scotland.
It will be accompanied by an increased online campaign from next week.
This will be targeted at women and young people in particular in the lead up to the referendum in September.
The UK government is also sending out a booklet to every home in Scotland, detailing what it sees are the benefits of the Union.
The costs of the new public information campaign will be published in due course, the Scottish government said.
Online activity
Deputy First Minister Nicola Sturgeon said: "The referendum on September 18 is the biggest democratic opportunity Scotland has ever had.
"We want people to be armed with the facts before they vote, which is why we are stepping up our public information campaign in the coming weeks.
"This will match the efforts of the UK government in every way.
"The Tory-led Westminster government has been using public funds to push their anti-independence message, and it is important that that is directly countered."
The Scottish Government has already published Scotland's Future, its prospectus for independence.
"In the weeks ahead we will build on that, with a combination of digital and online activity to provide information, and a short version of Scotland's Future," Ms Sturgeon added.
Earlier this month the UK government announced a booklet putting the case for the union was to be posted to every home in Scotland at a cost of £720,000.
It said the 16-page booklet would set out the "positive case" for Scotland remaining part of the UK in a in a "clear and simple format".
The referendum on Scottish independence will be held on 18 September, when voters will be asked the Yes/No question: "Should Scotland be an independent country?"