Scottish independence: Orange Lodge registers to campaign for a 'No' vote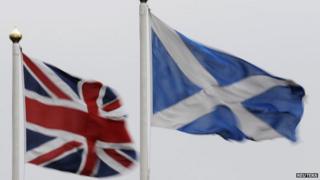 The Grand Orange Lodge has registered as a "permitted participant" in the Scottish referendum campaign.
Registration with the Electoral Commission means the Orange Lodge would be able to spend up to £150,000 campaigning for a "No" vote in September.
The money does not count towards the official lead pro-Union campaign body Better Together's £1.5m spending limit.
The Electoral Commission said 25 groups and individuals had registered so far.
The list includes Better Together and the lead pro-independence campaign Yes Scotland.
Last year the Orange Order, which describes itself as "the oldest and biggest Protestant Christian fraternity in Scotland", launched the British Together campaign in favour of continuing the Union.
A spokesman said the organisation had registered as the Grand Orange Lodge of Scotland.
Other rules around registration require:
the groups to be UK-based
to plan to spend more than £10,000 and up to £150,000
to make their campaign spending details and loans available to the Electoral Commission for scrutiny.
There is no registration deadline ahead of the 18 September referendum.