Prisoner numbers still increasing despite work on over-crowding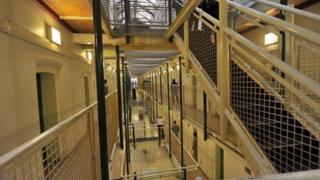 Scotland's prison population is still rising despite efforts to tackle over-crowding.
The chief inspector of prisons wants home detention curfews used more to cut the number of adults in jail.
David Strang's first annual report said, while there had been a drop in young offenders detained, the rise in adult prisoners was "disappointing".
He called for more longer-sentence inmates to be moved to lower levels of supervision in preparation for release.
This would involve more home detention curfews or "tagging".
Mr Strang said tackling drug and alcohol problems was needed to break the vicious circle of reoffending and more effort should be put into rehabilitation programmes.
He said: "Much more should be done to work with people on short-term sentences so that they are prepared for release and have something constructive to go to.
"I believe there should be fewer people in prisons and then what the prison service can do with them is more constructive and is more likely to lead to reducing reoffending."