Scotland's referendum: Would saying 'Yes' change the way we fish?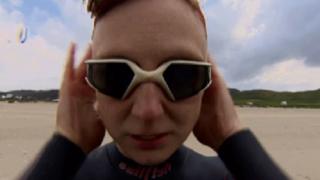 The BBC's referendum correspondent Laura Bicker dived into the debate on independence during her triathlon trip around Scotland. Here, she takes to the water to find out if voting "Yes" on 18 September could change the way we fish.

My mind can often be in turmoil before I enter open water.
What's in there? What am I going to face? And crucially, how cold will it be?
But as I walked along Reef Beach in Lewis with my wetsuit on, I was distracted. The sea was so turquoise and clear.
Before I had time to ask my fellow swimmers how cold the water might be - I was waist deep and eager to dive right in.
As I swim I am aware that the sands beneath me harbour hidden treasure. Valuable fishing grounds. Prawns, lobster and crab nest and lay their eggs. They can take years to form into something you and I would put on our plate.
This is a food source which takes time to nurture.
Scottish waters are vital to the UK fishing industry. The Scottish government says more than 80% of the UK's total catch is landed in Scotland.
My guides in the water are part of a team attempting a record breaking swim to St Kilda. They know every twist and turn of the current, but when it comes to the referendum - well they're not so sure. The only certainty for them is that they want this special place to be protected.
Eilidh Whiteford tells me: "We are one of the last wildernesses in the UK. We need to look after these wild places, it's vital."
With the wetsuit off I wander around Stornoway harbour. About 90% of the fleet is now geared towards catching shellfish in the Minch, the stretch of water between Harris and Lewis and the Scottish mainland.
There have been concerns over decreasing stocks. As a result, the fishermen are waiting to hear how many days they will be allowed out to sea in the next year.
In the past - those days have been cut by as much as five weeks. It has slowly increased in recent years, but there are also limits on the amount they can catch - all decided by the EU.
And that's why fishermen's minds are in turmoil over the referendum debate. They are looking carefully at the arguments and wondering where to wade in.
They are asking themselves which side will give them a better deal and who is best placed to re-negotiate a controversial Common Fisheries Policy.
Calum Maciver has fished in the waters off Stornoway for 26 years. He's just bought a new boat and registered it to fish for prawns in UK waters. Around half his time is spent in English waters and that's why this skipper is voting "no" in the referendum.
He says: "At certain times of the year it's best to go into different waters to maximise our days at sea and the availability of what's to be caught.
"If they went for the yes vote - that would be a hindrance."
'Getting a good catch'
Donald Morrison takes a different view. He believes an independent Scottish government would have more of a say in Europe.
He tells me: "They could enter into new negotiations and make things better and easier for the fishermen.
"You see a lot of legislation at times and it really frustrates you. We're not looking to do harm to anyone or anything.
"We just want to go out there. They call it the hunting instinct. There is nothing better than going out there and getting a good catch."
I find the next generation looking for a catch doing a three week course at Lews Castle College in Stornoway. They're all 15 or 16 and many of them already have their own boats.
Some of them dream of working on bigger trawlers catching white fish. But that means heading further afield.
Donald John Macintyre is 15 and misses out on a vote in the referendum by four days.
He's just returned from a trip to the Faroe Islands where he had to throw away his catch to keep to a quota.
He say: "It's quite annoying when you get tonnes of boxes of big fish coming over the rail - you have to throw them back again. And they're all dead when they come over. They don't survive it."
Oran Boyd, who is 15, works with his father's business in Barra. As he shows me how to mend a fishing net he tells me he's not sure how he would vote in the referendum.
Red tape
He explains: "I would like to see Scotland have their own quotas."
Back in the water I can't see the red tape when I'm swimming, but it's there.
What is clear is that both sides of this debate want change.
What they can't agree on is if independence will turn the tide for both fish and fleet.