New Scotland planning policy includes backing for 14 major projects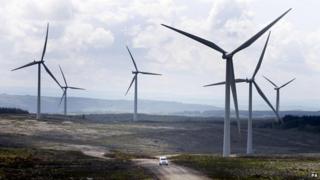 The Scottish government has launched planning policies backing to 14 major "national developments".
Proposals include a high-voltage energy transmission network, a national cycling and walking network and plans for high-speed rail.
The framework also includes measures to limit the impact of fracking, including a requirement for buffer zones between developments and local communities.
Wind farm development will be banned from Scotland's national parks.
Restrictions on wind farms and certain other developments will apply in areas defined by Scottish Natural Heritage's Wild Land Areas Map 2014, which cover 19.5% of Scotland's land.
Planning Minister Derek Mackay said the National Planning Framework 3 (NPF3) and Scottish Planning Policy (SPP) would "deliver improvements that will benefit the nation for decades to come".
He added: "We have taken steps to ensure that no wind farm developments can go ahead in our cherished national parks and national scenic areas, and we have strengthened the protection of wild land, with new maps and inclusion directly in the SPP and NPF3.
"This new policy also gives serious consideration to concerns over unconventional oil and gas with five main changes to strengthen planning policy.
"These include new rules on hydraulic fracturing which will compel operators to consult with the public.
"In addition, buffer zones will be established to protect communities and these will be assessed by planning authorities and statutory consultees."
Hydraulic fracturing, or fracking, is a technique for recovering gas and oil from shale rock. It involves pumping a mixture of water, sand and chemicals into a well, under high pressure, to fracture the rock.
The Scottish Greens voiced disappointment at the lack of defined buffer zones around fracking projects.
Green MSP Alison Johnstone said: "They may not be as gung-ho as Westminster but the Scottish government has failed to come down on the side of communities worried about the impacts of fracking.
"Greens proposed a 2km buffer zone but this has been rejected and now it will be up to developers to put forward a plan for approval. We already have standard buffer zones for wind farms and coal mines, so why not gas extraction?"
The Scottish Conservatives claimed public pressure had forced ministers to restrict wind farm development.
The party's energy spokesman, Murdo Fraser, said: "People living in rural settings are still constantly subjected to the threat of developers - egged on by the Scottish government - building massive turbines on their doorstep.
"And the SNP, in its unreasonable drive to generate 100% of electricity from renewables, cannot be allowed to place more wind farms in other areas to make up for this announcement today."
The 14 national developments in the new national planning framework included plans for Dundee waterfront and Aberdeen Harbour, a carbon capture and storage network and thermal generation, a high-voltage energy transmission network and enhancements for strategic airports.
There was also backing for the Central Scotland Green Network to restore and develop landscape, and a cycling and walking network throughout Scotland.
'Active participation'
Colin Howden, of Transform Scotland, an alliance of public, private and voluntary organisations campaigning for sustainable transport, said: "While the government's planning ambitions for improving the national walking and cycling network are welcome, it will also be imperative to monitor the degree to which local authorities are prepared to assist in the development of the network.
"The nature of active travel development requires the active participation of local government but the great unknown is the willingness of local authorities to participate.
"While local government transport budgets remain stretched, it is clear that investment in strategic long-distance active travel networks will have to be financially supported by the Scottish government, just as it invests in the strategic road and rail networks."
Blair Melville, of construction industry body Homes for Scotland, welcomed the policies' "presumption in favour of development", which would bring Scotland in line with England and Wales.
"With less than 15,000 new homes completed last year, the lowest level since 1947, we welcome the firm view expressed by the planning minister that local authorities must focus on delivery of the many thousands of homes of all tenures that Scotland desperately needs," he said.
"His commitment to use the full range of powers available to him to ensure this is especially significant given current proposals to increase planning fees."