Scottish independence: Salmond and Darling TV debate confirmed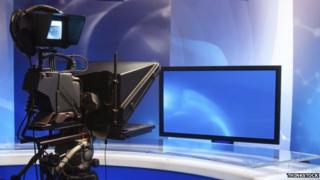 First Minister Alex Salmond has agreed to a live TV debate with Better Together leader Alistair Darling.
Both politicians have been invited to take part in the STV debate.
Mr Salmond said he would continue to push for Prime Minister David Cameron to debate him over independence, but he has offered to take on Alistair Darling after the Commonwealth Games.
Better Together campaign director Blair McDougall said it was a welcome development.
STV wrote to both campaigns proposing a plan for a live two-hour debate.
It would be broadcast from Edinburgh, hosted by STV's political editor Bernard Ponsonby, and attended by 500 members of the public representing both sides of the debate as well as undecided voters.
A spokesman for Mr Salmond said the first minister would "continue to pursue David Cameron" to agree to debate him.
The spokeman added: "If he continues to duck from it - the first minister will take on Alistair Darling shortly after the Commonwealth Games."
Mr McDougall said: "People in Scotland deserve a TV debate between the leaders of both campaigns about the big issues in this referendum, like what would happen to our pound, pensions and public services."
The prime minister has previously said the debate should be "between people in Scotland".