Scottish independence: 'Yes' vote is 'opportunity for young', says Salmond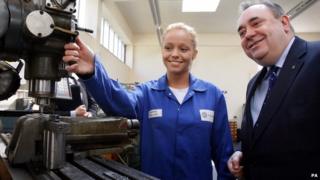 Independence would give young people in Scotland the "opportunity of a lifetime", according to the first minister.
Alex Salmond said young Scots were at the heart of the referendum debate and could "build a better country".
Mr Salmond was speaking ahead of a youth event in Glasgow where young people will quiz ministers.
The pro-Union Better Together campaign said young people were rejecting independence "in droves".
September's referendum will be the first time 16 and 17-year-olds have been given the vote.
The event will offer more than 100 young people aged 16 to 21 the opportunity to question Scottish cabinet ministers about their plans for an independent Scotland.
Speaking before the event, Mr Salmond stressed the importance of engaging with young people in the run up to the ballot and argued that independence would lead to more training and modern apprenticeships.
He said independence would also allow Scotland to implement the European Youth Guarantee, which gives help to unemployed young people so they can be offered a job, education or training within four months.
Mr Salmond said: "For young people the prospect of an independent Scotland really is the opportunity of a lifetime.
"The case for independence rests on the talent and ability of our people.
"It will be better for all our futures if decisions about Scotland are taken by the people who care most about Scotland - the people who live and work here.
"No-one else will do a better job and no-one else has a bigger stake in our success. That fundamental truth applies to young people more than anyone else."
He added: "Young people will be at the heart of the debate and by voting can help to build a better country."
However, Better Together youth representative Carys Hughes said remaining in the Union offered young people in Scotland "the best of both worlds".
She added: "There is a very clear pattern emerging - young people in Scotland want us to stay in the UK and are rejecting Alex Salmond's campaign in droves.
"We live in a large, interconnected world and are constantly told to expand our horizons.
"Only Alex Salmond wants us to think smaller and put up barriers between us and those living elsewhere in the UK.
"Nationalism is such an old-fashioned and out of touch idea, it's no surprise young people are put off by it."
The Scottish independence referendum takes place on 18 September.
Voters will answer the yes/no question: "Should Scotland be an independent country?"