Scottish independence: Row over referendum transition team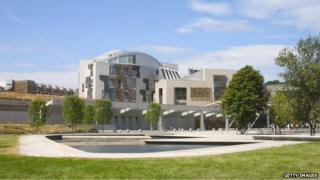 The Scottish government has advertised internally for staff to work on the transition to independence.
The advert said the role would involve gathering information on the "financial aspects of constitutional change".
Ministers have described the move as sensible planning for the possibility of independence.
But the pro-UK Better Together campaign claimed it was a "panic response" to recent controversies over the start up costs of independence.
Among the posts advertised by the Scottish government are an Investigation and Analysis Officer, who would be tasked with "assuring and collating information on financial aspects of constitutional change".
The role would also involve "helping to analyse financial information within transition plans" and "compiling information on assets and liabilities held by the UK government and public bodies".
The successful candidate would be responsible for "researching and locating asset registers of public sector bodies, analysing bodies' financial accounts (under supervision - no accounting experience is needed) and drawing together information on assets and liabilities".
A separate role of Constitution Policy Officer, Elections and Constitution would involve "supporting planning for negotiations following a yes vote", the advert said.
Scottish First Minister Alex Salmond was questioned over the costs of a setting up an independent Scotland by Conservative leader Ruth Davidson in the Holyood chamber on Thursday.
Ms Davidson asked the first minister: "Has any further work been done by the Scottish government on how much it would cost to set up any newly independent Scottish state?"
Mr Salmond said the work had already been done and had featured in the independence White Paper.
He also dismissed claims that he has ordered Scottish government officials to draw up a report on the costs of independence.
Referring to the Scottish government's internal staff adverts on Friday, Ms Davidson claimed: "The SNP shambles over the start-up costs for independence is getting farcical now, with less than 90 days until the referendum vote.
"Having been in government for more than seven years, Alex Salmond is only just getting round to hiring staff to work out what it would cost to set up all the new departments and institutions needed for a new state.
"Alex Salmond must answer some very simple questions for voters before they go to the polls. What work has already been done on set up costs, and if any work has been done when will this be published?"
Published analysis
But Equalities Minster Shona Robison suggested the pro-UK campaign was attempting to deflect attention from controversy over its attempts to exaggerate the costs of independence.
She added: "In the event of a Yes vote we are going to need a transition team. These are internal appointments, so it is not external, to establish a small team ready for the transition that will take place.
"So it is a transition team, internal appointments, and I think Better Together are just getting over excited".
In May the UK government published analysis which put the cost at £1.5bn.
But the Treasury said the cost could be twice as much, if based on a different study by Prof Patrick Dunleavy of the London School of Economics.
Prof Dunleavy later accused UK ministers of a "ludicrous" use of his research.
The academic estimated the true cost could be between £150m and £200m, a suggestion that Mr Salmond said was reasonable.