Scottish independence: Rivals set out economic case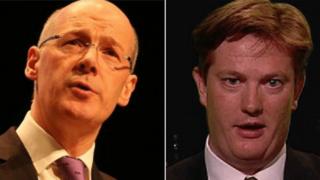 Both sides in the Scottish independence referendum campaign have summed up their key economic arguments.
Scottish finance secretary John Swinney said the independence debate "will turn on where people see their best economic prospects lying".
Chief Secretary to the Treasury Danny Alexander published a paper arguing there were trade, tax and public spending benefits from the Union.
Both men addressed a conference on Scotland's future in Edinburgh.
In his speech to the Institute of Chartered Accountants of Scotland, Mr Swinney said: "Clearly the type of programme that we have set out is designed to expand and to grow the Scottish economy.
"That is fundamental to the realisation of our aspirations and ambitions.
"I think the debate will turn on where people see their best economic prospects lying. That is where I think people will make their judgement.
"It is not crudely about 'do I believe this paper which says I will be £1,400 better off, or this paper that says I will be £1,000 better off'.
"It is about looking at all the information and saying where do I think my country is going to perform and achieve the best."
The UK government has claimed that being part of the UK results in Scottish taxpayers being £1,400 better off per year, while the Scottish government has said Scots would be £1,000 each better off under independence.
'Sterling zone'
The finance spokesmen from the Conservatives, Labour and the Liberal Democrats have all ruled out sharing the pound with an independent Scotland, but Mr Swinney reiterated his belief that Scotland could join a "sterling zone".
He said he agreed with Bank of England governor Mark Carney that some giving up of fiscal sovereignty would be required, adding that this could include agreements on levels of borrowing and debt.
"I think these are reasonable constraints we could sign up to as a consequence of becoming an independent country and being in a sterling zone," he said.
"Once we do that, the framework is there for an independent Scotland to take the economic decisions which are in our competence to do so."
The Scottish government's plans for manufacturing were announced by First Minister Alex Salmond last week.
In the long-term, the strategy could see a 50% rise in exports, boosting employment by more than 100,000 jobs, Mr Salmond said.
'Project Fact'
Publishing the Treasury case for the Union, Mr Alexander argued that Scotland benefits from the sterling currency union as part of the UK.
He also said Scotland enjoys lower taxes and higher public spending than would be possible under independence.
The Treasury's fifteenth analysis paper on Scotland, published in advance of Mr Alexander's speech, repeated the UK government's claim that this "UK dividend" is worth "£1,400 per person per year for each person in Scotland".
The paper said Scotland has the advantages of "borderless trade" within the UK and lower borrowing costs.
It added: "Revenues from North Sea oil and gas are subject to sudden change and will ultimately decline.
"Since 2010, the independent Office for Budget Responsibility has revised down these revenues by £21bn.
"But instead of needing to cut spending in response, the Scottish Government has benefited from an additional £2.2bn, provided by the UK government."
Mr Alexander said: "People need to be informed about the consequences of the Scottish referendum.
"That's why we have undertaken the most rigorous and comprehensive analysis of Scotland's place in the UK ever attempted.
"You might call it 'Project Fact' - over 1,400 pages of analysis citing hundreds of independent experts and organisations.
"The conclusion is clear: almost every aspect of life in Scotland is enhanced and improved because we are part of the UK."