PE targets met by 96% of schools in Scotland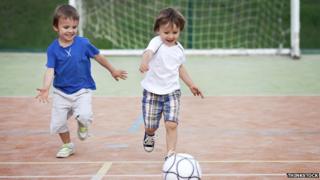 The vast majority of schools in Scotland are meeting physical education targets, according to the Scottish government.
Figures show 96% of schools now give pupils two hours, or two periods, of PE every week, up from 89% last year.
The statistics came as Sports Minister Shona Robison formally launched a £5.8m initiative for young people.
She said Scotland was striving to become a "healthier, more active nation".
A survey of schools also showed that 98% of Scotland's 2419 schools expected to be able to meet the PE target by August.
In primary education, 97% of schools met the two-hour target, up from 88% in 2013.
However, the number of secondary schools achieving the standard dropped slightly in the last year, from 91% to 90%.
The PE statistics are part of a wider study of pupil attainment in Scotland.
Ms Robison said the Scottish government would work with local authorities and sporting bodies to ensure the remaining 41 schools improved their performance in PE.
'Sporting aspirations'
At the end of last year, Ms Robison announced £5.8m in funding for PE lessons over the next two years, to help schools capitalise on enthusiasm for the Glasgow 2014 Commonwealth Games and the Ryder Cup.
The funding was part of the Scottish government's youth sport strategy, which was formally launched today with the Convention of Scottish Local Authorities (Cosla).
Ms Robison said: "Today's figures highlight the excellent progress that is being made across Scottish schools.
"[The strategy] has been shaped by the Young People's Sport Panel and informed by the views of almost 3,000 children and young people.
"It highlights the importance of putting the views of children and young people at the heart of delivery and provides a framework for collaborative working to deliver their sporting aspirations."
Councillor Harry McGuigan, Cosla spokesman for community wellbeing, said councils made a "huge contribution" to sport for young people.
"We want our children and young people to participate in and enjoy sport, but we need to create the right opportunities and we must celebrate their talents and successes," he said.
"It is our collective responsibility to realise the aim of lifelong participation in sport.
"Councils provide nearly 90% of public sector investment in sport, including the delivery of the community sports hubs.
"Local authorities and leisure trusts make a huge contribution to the delivery of Scotland's sport, providing opportunities through a wide range of activities and provision, to achieve better outcomes for our children and young people."
Scottish Green Party MSP Alison Johnstone said the drop in the number of secondary schools meeting their PE target was a "real worry".
"[The drop] suggests the Scottish government has taken its eye off the ball," she added.
"We need proper facilities and proper coaching so that exercise remains attractive and enjoyable as our young people progress through the school system."