Scottish independence: Islands to get seabed income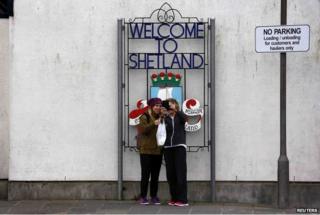 Scotland's island communities would get all money generated from leasing the seabed in the event of independence, First Minister Alex Salmond has said.
The move came as he outlined plans to give authorities in Orkney, Shetland and the Western Isles more powers in the event of a referendum "Yes" vote.
Mr Salmond also said island communities would have a stronger voice in Europe.
But the MSPs representing Orkney and Shetland said their areas were being held hostage ahead of the referendum.
The UK government is also considering its own offer of more powers to the islands, which would apply if there was a "No" vote on 18 September.
The Scottish government published its vision to empower island communities in the wake of a joint declaration by the island councils - which included a call for control over seabed revenues, to meet local needs.
Mr Salmond's commitment went much further than a pledge in his government's White Paper for independence, which talked about Orkney, Shetland and the Western Isles getting a share of more than 50% of the cash, which is generated by the Crown Estate.
Speaking from Orkney, the first minister said: "Today's prospectus is the most comprehensive package for empowering Scotland's island communities that has been put forward by any government.
"It recognises the unique contribution that island communities make to modern Scotland, and also the distinctive needs and priorities they have.
"Most of all, though, it recognises that Scotland's islands have huge potential - a wealth of culture and history; stunning landscapes; massive renewable energy resources; and a host of successful businesses in sectors such as food and drink, life sciences and tourism."
The Scottish government's island plan included:
To allocate, on independence, 100% of the net income from the islands' sea bed leasing revenues to island communities, rather than central government
Legislation placing a duty on government and public bodies to "island-proof" their decisions
Support new "island innovation zones" to boost job opportunities
However, Tavish Scott and Liam McArthur, the Liberal Democrat MSPs for Shetland and Orkney respectively, accused Mr Salmond of offering a "referendum bribe" to the islands.
"The Scottish government already possess the necessary powers to carry out the vast majority of proposals outlined in today's report," said Mr Scott, adding: "They could and should be acting now rather than holding these issues hostage to their obsession with independence."
Mr McArthur said: "Over the last seven years, the SNP has centralised a host of key services, while also excluding Orkney and Shetland from the Road Equivalent Tariff scheme and cutting air discount support to local businesses.
"Quite rightly, people in Orkney will reflect on the SNP's track record when assessing how reliable these latest promises might be."
Despite the criticism, the three authorities reacted positively to the government document.
Orkney Islands Council convener Steven Heddle said: "The Scottish government has clearly been willing to consider, negotiate and respond positively to the arguments we've made.
Gary Robinson, the leader of Shetland Islands Council, added: "Crown Estate powers and a share of the income generated from leasing agreements will allow us to support investment in our coastal communities and ensure that this has a lasting and sustainable impact."
Western Isles Council leader Angus Campbell, said: "Working closely with the Scottish government, we have set out an agenda for the way forward for our islands.
Scottish Secretary Alistair Carmichael, who is the MP for Orkney and Shetland, has promised to deliver greater powers for the Northern and Western Isles.
He said they should have "the maximum amount of control", with a devolved government in Edinburgh continuing to look after issues such as health and education, although control of defence, foreign affairs and "our bigger economy" should remain in London.
Shetland, home to Sullom Voe, one of Europe's biggest oil terminals, has put oil wealth into two funds which have been invested and grown to more than £200m each.