Scottish independence: Salmond adviser's apology rejected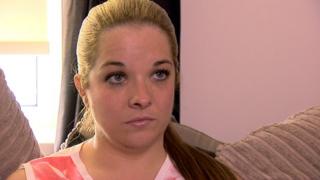 A woman has refused to accept an apology from a special adviser to Scottish First Minister Alex Salmond who made false claims about her.
Mother-of-two Clare Lally spoke at an event organised by pro-Union campaign Better Together on Monday.
Adviser Campbell Gunn contacted the Daily Telegraph newspaper to complain about her description as an "ordinary mum".
Mr Gunn issued an unreserved apology for any offence caused to Ms Lally.
The adviser, a former journalist who was previously political editor of The Sunday Post, was ordered to say sorry by Mr Salmond.
Mr Gunn had wrongly claimed in an email to a Telegraph journalist that Ms Lally was the daughter-in-law of Pat Lally, a former Labour Lord Provost of Glasgow.
"Nothing in the email I sent was intended in any way to be a personal slight on Ms Lally or question her absolute right to express her views, and I apologise unreservedly for the upset and offence that has been caused to her and her family," said Mr Gunn.
Ms Lally told BBC Scotland she had been subjected to "disgraceful, shocking and disgusting" abuse by what she described as "keyboard warriors" on Twitter after a suggestion that she was linked to the former provost appeared on a pro-independence website Wings Over Scotland.
She added: "The comments were really bad, things about me being a mum, about me being a carer, about the work I do, the campaigning I'm involved in. Just really nasty, nasty things, very personal and very upsetting.
"People think this is ok behaviour, that if we don't agree with one side then we have to be shot down, we have to be publicly ridiculed, we have to be belittled, we have to be discredited for anything that we do.
"What is abnormal about wanting to speak out and be a part of the campaign that everybody wants to be a part of? It is one of the biggest decisions that is going to happen. Why am I not a nice person simply because of my beliefs?
Ms Lally said she would like Mr Gunn to define what he believed an "ordinary mum" was, and said she did not accept his apology.
However, she said it was not for her to say whether or not Mr Gunn should lose his job.
BBC Scotland has found several tweets attacking Ms Lally over her links to the Labour Party as well as some more abusive examples, including one accusing her of using her daughter's health conditions to scaremonger about the NHS.
In response to the Tweets directed at Ms Lally, Mr Gunn said: "I deplore online abuse directed against Ms Lally or anyone else - from whichever side in the referendum debate - and the assertion by the 'No' campaign that I had any involvement in the co-ordination of such activity is completely untrue.
"I sent one email to one journalist which in no way was intended to form the basis of a story. I am genuinely sorry I did so, and the first minister had no knowledge of it.
"The first minister has previously met Ms Lally, as is also reported today, and holds her in the highest possible regard."
The leaders of Scottish Labour, the Liberal Democrats and Conservatives said the first minister must sack Mr Gunn.
Ms Lally, who is from Clydebank, told the Better Together event on Monday: "I'm just a normal person but I want to do something extraordinary. I want to do my bit to help keep people together."
'Estimable person'
She told how she was grateful for the care health workers had given her seven-year-old twin girls, one of whom has cerebral palsy, and wanted to "make sure our NHS remains the best in the world".
Mr Salmond told the BBC he had met Ms Lally several times and she was "perfectly entitled to her view".
He said the claim about Ms Lally was a "mistake", but added that it was not an insult because Pat Lally was an "estimable" person.
The first minister said: "I've instructed the special adviser to apologise for any offence that's been caused by that - but she's not Pat Lally's daughter-in-law, she is an ordinary mother and she's absolutely entitled to express a view, as indeed every other person in Scotland is."
Asked whether the first minister's staff should be briefing against people who express a view on independence, Mr Salmond replied: "It was a misunderstanding.
"Saying that somebody thought somebody was somebody's daughter-in-law is not a grievous insult and shouldn't be taken as such.
"But, just to make sure, an apology will be on its way to underline the point."
The first minister was also asked to respond to claims from Ms Lally that she was targeted by abusive comments on social media.
He said: "I've always condemned anything that's said untoward on social media.
"We're conducting a great debate in Scotland at the present moment - a debate that has to be conducted at the highest level, and I would ask everybody on social media, and any media, to conduct it in that term."
Stuart Campbell, from the Wings Over Scotland, said it had only ever suggested Clare Lally "might" be related to Pat Lally, and that its main point was that she was not an "ordinary mother".
He said: "She is not elected but she is in Scottish Labour's shadow cabinet.
"She's in UK Labour's national policy forum, I believe she is the secretary of a constituency Labour Pary. She's involved in formulating Labour policy. I think that pretty much counts as being a politician."
The referendum on Scottish independence will take place on 18 September.