Scottish independence: Janet Street-Porter walks and talks her way through the debate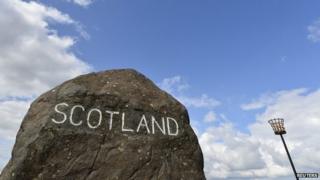 I know what you're thinking. What right does this southern loudmouth have to come to Scotland and to trample her way into our referendum debate? And I suppose you have a point.
But, unlike many of my friends and colleagues, who would struggle to point to Scotland on a map, I've been coming here for years. It is my kind of a place: the wide open spaces; and you are my kind of people: funny, direct, warm.
I walked all the way from Edinburgh to London years and years ago for a BBC Two series, As The Crow Flies, and got to know (and love) the Borders. I've made sure always to go to the Edinburgh Festival, have chaired the TV Festival and performed my (critically-acclaimed!) one-woman show there.
Elsewhere, I've chartered a boat on Loch Alsh, cruised the Western Isles and swum off all the islands (and I do mean all). I've signed a petition to stop more fish farms on Loch Etive - my favourite loch of all - have broken my ankle above Glencoe and spent two of the last three New Years outside Portpartick - I love Dumfries and Galloway. Yes, I am useless at Scottish reels, but like to try!
But there's been something nagging away at me ever since Alex Salmond and David Cameron agreed that there would be a referendum on independence. It's fair to say most people down south are barely aware it's happening let alone across any of the arguments. If they talk about it at all, they seem to suspect the Scots have gone stark raving bonkers.
And I started to worry. I had thought Scotland and I got along just fine. But then I began to think: is it because they don't like us? Is it - as Newsnight supremo Jeremy Paxman suggested last week - because you Scots hate the English? Is it me?
And so, when BBC Scotland invited me to make a documentary on the referendum I jumped at the chance. They wanted someone outside the debate to deliver an 'as-others-see-us' programme. I had one stipulation: I would find the answers the best way I know how, by walking and talking.
'Insights'
I picked three distinct areas of Scotland with different histories and industries - the Borders, which I know well, the central belt and the north east - and three glorious walks I could enjoy, while chatting to some colourful characters along the way. I met people who worked in farming, textiles, fishing, oil, renewable energy and the arts, and asked them what they thought, to work out if my prejudices were right. I met a historian, a defence expert, even the odd publican. I talked to a student from the Asian community and an Englishwoman who had made Scotland her home. They all delivered some real insights.
I kicked off on the stunning Southern Upland Way, which runs for 212 miles from coast to coast across the Borders, at Cockburnspath in the east. The border has moved loads of times - did the proximity of Scotland to England make the antipathy I suspected more likely, or did it mean the people who live here were actually more likely to get on?
One of the most interesting characters I met was musician Jesse Rae. You might remember him from the 1980s because he always appeared in full tartan garb and helmet. He was fearsomely keen on independence, but more than that. He touched on something that I realised was keenly felt in the Borders - that it was a very different area from the rest of Scotland (and of course the UK) and it disliked central belt rule in Scotland almost as much as it disliked Westminster.
Next up was a walk through Scotland's one-time industrial heartland, along the Forth and Clyde Canal - complete with a couple of detours on the way. I saw some fantastic sights: I was astounded to learn the Falkirk Wheel turns with the same power it takes to boil just eight kettles, then there were the Kelpies, Andy Scott's magnificent 100-ft high steel horses' heads.
It was on this stage of the walk that I felt one of my theories beginning to fall apart. As I interviewed "Yes" campaigner Robin McAlpine, of the Jimmy Reid Foundation, from a crane over the Clyde, he told me: "It's nothing at all to do with the English. It's not that we don't like you. It is that you are not part of our lives. It's so not about the English. It's absolutely not."
'Immersive debate'
And down the road in Falkirk, playwright Alan Bissett, another "Yes" supporter, said the same thing.
He told me: "I can see how it might seem like that because if you are not part of the debate that is happening in Scotland, which is a very deep and immersive and diverse debate, it just looks like this thing erupted out of nowhere - 'Oh, you must be doing that because you don't like us.'"
He added: "But for Scots, essentially, it's about democracy. It is about being able to control our economy. It is about being able to decide your own government and the future path that your country takes. At the moment, we can't do that.
"We have problems in Scotland, serious problems of poverty and neglect that we do not have the ability to fix because all the levers controlling that are in Westminster. So, really, Scotland's beef is with Westminster. It's not with the English people."
My last walk - and I should say time allowed me only to sample the three great walks - took me to the Formartine and Buchan Way, which ends in Fraserburgh. I took a few detours, to talk about oil and windfarms, before discussing fish.
I suppose it's fair to say the business people I met were nervous about matters like currency. Some textiles students I met in the Borders surprised me because their voting intentions were split very firmly along gender lines (the women seemed to be strongly opposed), while the central belt, which appears to be critical, seemed much more open to the idea of independence. Those I spoke to were pretty evenly split. It was, as I say in the film, an entirely unspecific straw poll, and I was interested more in what people had to say than in how they'd vote.
That being said, I was left with one strong impression: the economy, and how people view it, is key.
One more thing, though. About the Scots disliking the English? I was completely wrong on that one. And you don't hear me say that often!
Janet's Scotland is on BBC Two Scotland at 21:00 on Tuesday 10 June. If you miss it you can catch it again on the BBC iPlayer.