Scottish independence: Carers could get more money post-Yes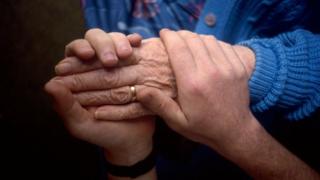 Carers in an independent Scotland could be entitled to £11 a week more, the Scottish government has announced.
The current weekly Carer's Allowance of £61 would go up to £72 under the plan, which has been recommended by a government working group on welfare.
Deputy First Minister Nicola Sturgeon said she was committed to taking the increase forward if Scotland votes 'Yes' in the referendum.
However, Labour MP Ian Murray called the increase a "referendum bribe".
The change would amount to an increase of £575 a year for the 102,000 people in Scotland who are eligible to claim the benefit, bringing it in line with Jobseekers Allowance, according to Scottish government figures.
The recommendation will be contained in a report to be published this week by the Expert Working Group on Welfare, set up by the Scottish government to consider welfare policy in an independent Scotland.
The referendum takes place on 18 September, with voters being asked the Yes/No question: "Should Scotland be an independent country?"
'Struggling'
Ms Sturgeon said the increase would end an "unacceptable anomaly" in welfare payments that mean carers were given "the lowest income replacement benefit".
She added that it would "ease the burden on households struggling to make ends meet as a result of a relative suffering from a long-term illness or injury that requires constant care".
She added: "That is why I can confirm that we are committed to taking this recommendation forward if we form the first government of an independent Scotland."
However, shadow business minister Mr Murray, who was speaking on behalf of Better Together, accused the SNP of "losing their grip on reality".
He said: "We are now to believe that we can have money drop from the sky for any and every referendum bribe they desperately offer up, we can all have a three day weekend and we can set up a new country for less than half the cost of the Scottish Parliament building.
"They will simply do anything, say anything and be anything to con the Scottish people. Jobs and the livelihoods of all Scots is much too important to play politics with."