Scottish independence: Common Weal urges different economy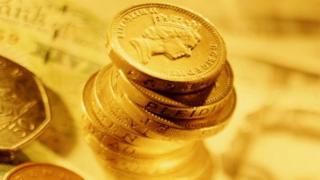 Scotland should embrace a shorter working week, higher wages, an expanded welfare state and higher taxes, according to a new blueprint.
The 180-page booklet, produced by the left-wing Common Weal project, recommends a rejection of "extreme market economics".
Many of the ideas included in the work rely on Scotland voting for independence in September's referendum.
But the authors say some of the agenda could be delivered under devolution.
Packaged as a simplified version of 50 detailed papers written by academics from around the world, the book, published by the Jimmy Reid Foundation, advocates "practical realism" and includes policies borrowed from Germany and Scandinavia.
The authors say although the work is not "neutral" in terms of the independence debate, it is presented as a "model of Scotland's future irrespective of the outcome of the referendum".
Among the main recommendations are:
a high-skill, high-wage economy and a 30-hour working week
An expanded welfare state with universal public services and an expansion in affordable housing
A minimum income for all
Raising the 40p income tax rate to 50p, and the 45p rate for those earning more than £150,000 to 60p
Higher taxes on land, industry, retailers and whisky production
A new £5bn national investment bank to create £100bn in industry investment over 20 years
Robin McAlpine, director of the Jimmy Reid Foundation, told BBC Scotland the aim of the Common Weal project was about "seeing that there is a different way to run your politics".
He said: "The conflict model which has dominated UK politics has worked badly for Scotland; it has created inequality, poverty and economic underperformance.
"We have to invest to grow the economy and to change the nature of the economy."
'Turning point'
He added: "For 35 years we've been told there is no alternative to the free-market politics of Thatcher, Blair and Cameron.
"For five years we've been told that no-one really knows how to reduce inequality in Scotland and make us more Nordic. And for the last year we've been told that no-one really knows what to do with the powers of independence, so why bother.
"Nobody can say these things anymore. There are an awful lot of people out there who hope this marks a turning point in Scotland's modern history."
The referendum takes place on 18 September, with voters being asked the Yes/No question: "Should Scotland be an independent country?"
Deputy First Minister Nicola Sturgeon welcomed the publication of the paper.
She said: "As the Common Weal publication makes clear, Scotland is ready for change and independence is the only way to secure a better future for the people of Scotland.
"With the full set of economic and fiscal levers, independence would unlock Scotland's full potential as a vibrant and dynamic economy and a fairer society.
"We welcome the contributions that Common Weal and other independent organisations are making to the dynamic and positive debate that is encouraging people in Scotland to consider a better future."
However, Scottish Conservative MSP Murdo Fraser said: "This is the 'Yes' campaign finally letting the cat out of the bag.
"An independent Scotland going down the social democratic route much loved of SNP politicians would mean whacking tax rises for middle earners and additional burdens on Scottish business.
"The fact that Nicola Sturgeon has welcomed this is a clear signal that the 'Yes' campaign is endorsing these swingeing tax rises."