Scottish independence: Expert says online key to young referendum voters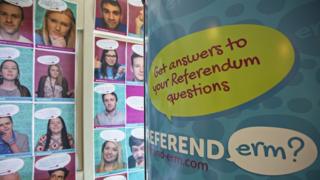 Communicating with young people online is vital, an academic says on the day the BBC launches a new website where youngsters can ask about the independence referendum.
Dr Jan Eichhorn has carried out research on youngsters and voting.
The Edinburgh University academic suggested young people get news primarily online and social media.
The new "Referend-erm?" site is a joint venture between BBC News Labs and digital agency Realise.
Dr Eichhorn said young voters would find the site useful as it allowed them to ask questions on issues which were important to them.
He said: "Many young voters find news reports through social networks, and they respond well to being pointed to links and following up on them. In particular, sources that are apparently neutral play an important role.
Referend-erm? contains BBC news stories and features, as well as quiz questions, and a space for young voters to ask their own questions, which will be answered and sent directly to them on social media.
Dr Eichhorn said: "Referend-erm? could be very useful for young voters trying to find information in one place.
"It allows for linkage into social networks which is very important, and engages with specific questions on pragmatic issues rather than general narratives which a significant number of young people may find very useful."
Many young voters have already asked a question on Referend-erm? on topics as wide-ranging as an independent Scotland's EU membership and if Scotland's national animal would still be the unicorn.
On the issues which concern young voters, Dr Eichhorn said: "In general we find that young people are concerned with similar things as adults.
"The questions that dominate are pragmatic and focussed on whether Scotland would be a better place to live in in any given scenario. Issues such as the economy matter, but in addition of course education is an important one, too."
Max Merrill, 17, finished high school in May and is going to Strathclyde University to study history and politics in September.
He asked Referend-erm?: "Is the Scandinavian example the Yes campaign use valid and credible?". You can see the answer he received here.
Max said: "I think Referend-erm is a great service. I got updates on social media telling me that my question was being looked into, then a tweet with my answer.
"I got a really in-depth answer from the BBC Scotland Economics Correspondent which actually answered the question, rather than just going 'this side says, but this side says…'"
He added: "It's definitely something I'll use again in the future, and I'll recommend it to my friends because I now know it's a great service."
Do you have a referendum question? Ask Referend-erm, and keep up-to-date on Twitter and Facebook.