Scottish independence: Oil and gas revenue estimate lowered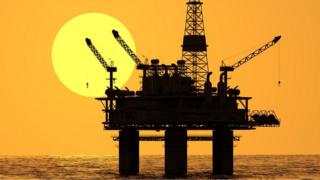 The Scottish government has lowered its estimates of the country's oil and gas tax revenues over the next five years.
Its figures put the likely total between £2.9bn and £7.8bn in 2016/17, which could be the first full year of independence under its timetable.
Last year, it estimated the sum would be between £4.2bn and £10.7bn for the same period.
The Office for Budget Responsibility (OBR), which was set up by the UK government, makes lower predictions.
Scottish Finance Secretary John Swinney said the central prediction showed the country can benefit from £34.3bn over the next five years - equal to almost £7bn a year.
The OBR expects just £15.8bn over the five years - less than half Mr Swinney's preferred scenario.
But Mr Swinney said: "The future outlook for the North Sea remains strong as demonstrated by the very high levels of investment in recent years, with capital spending reaching £14.4bn in 2013 - more than double the level observed in 2010.
"The impact of that investment is now becoming visible. The latest statistics show oil and gas output in February and March 2014 was approximately 3% increased on the same months of last year."
His latest analytical bulletin, the third since March last year, puts revenue at £5.8bn in 2014/15, rising to £8.3bn, before fluctuating between £6.9bn, £7.3bn and finally £6bn in 2018/19.
The new Scottish government analysis said the lowering of the forecasts could largely be attributed to two factors:
Operating costs are now projected to be higher in future years than was assumed in the first analytical bulletin, reducing the profitability per barrel produced.
Future production and the oil price are now both assumed to be lower than anticipated in the first analytical bulletin.
Scottish Conservative leader Ruth Davidson said the lowering of the estimates opened up a £5bn "black hole" in the Scottish government's case for independence.
She added: "The White Paper was already straining credibility as an uncosted wish-list, but now even the SNP has been forced to admit that the oil figures they used to try and underwrite their fiction won't be achieved.
"While economic experts have been saying for some time that the figures for an independent Scotland don't add up, this is the first time that even (Scottish first minister) Alex Salmond has admitted there's a multi-billion pound black hole.
"It is no wonder the Scottish government stalled for so long on publishing these new statistics - the entire basis for their separation mathematics has been blown apart."
Voters will be asked the Yes/No question: "Should Scotland be an independent country?" in the referendum on 18 September.