Scotland 2014: BBC launches current affairs show in key year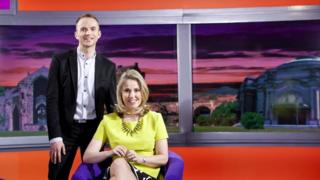 BBC Scotland has launched a new weeknight current affairs series.
Scotland 2014 began at 22:30 BST on BBC Two Scotland and will run four nights a week from Monday to Thursday.
The half hour programme will be hosted by Sarah Smith, former correspondent for Channel 4 News, and will take a look at the stories behind the day's headlines.
The programme will also be tackling the big issues affecting Scotland in the run up to September's referendum.
Speaking with John Beattie on Radio Scotland, Sarah Smith said: "The idea is it's a lively mix of news, current affairs, chat, analysis and hopefully a little bit of fun along the way.
"It's about asking tough questions, about covering the issues that really matter to Scotland, but it's about being a little bit cheeky at the same time."
Tonight's opening show included an interview with the Chief Secretary to the Treasury, Danny Alexander, and an investigation into the security firm G4S. Comedian Janey Godley was also in the studio.
Later in the week, Sarah Smith will be joined by co-presenter Jonathan Sutherland.
She said: "We're absolutely delighted to have him. He's going to be joining us every Thursday.
"He's going to be looking at some sports stories, he's going to be concentrating on the young people who will have the chance to vote for the first time in this referendum and he will be bringing us his thoughts about what is going on in a very exciting year for Scotland."
Scotland 2014 began on Tuesday 27 May on BBC Scotland at 22:30. You can watch again on the BBC iplayer.