Alex Neil: 'Substantial improvements' in A&E care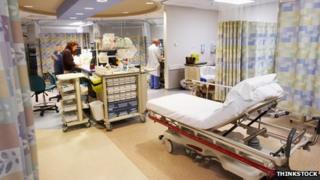 Investment of £30m has brought about "substantial" improvements in accident and emergency (A&E) care in Scotland, Health Secretary Alex Neil has said.
But he stressed the NHS must "build on this initial progress" over the next two years.
He said there was "still work to be done" on emergency care.
The money - £10m from the Scottish government and £20m from local health boards - is the first slice of funding from the unscheduled care action plan.
Since the plan was introduced, there has been an 87% reduction in the number of patients waiting more than 12 hours in hospital A&E units, according to the government.
New measures
Figures showed that 93.5% of people in accident and emergency were treated within four hours in December last year - below the government's interim target of 95% but up from 90.3% in December 2012.
In that month there were 323 cases in December where patients in A&E had to wait more than 12 hours.
Since then, health boards across Scotland have brought in new measures in a bid to improve unplanned care, including the creation of a special unit in NHS Forth Valley aimed at preventing frail elderly people from being admitted to hospital unnecessarily.
NHS Ayrshire and Arran has introduced a discharge hub in a bid to reduce delays for patients waiting to go home, while bosses at NHS Fife have recruited special "flow co-ordinators" to improve how patients move through the healthcare system and reduce delays.
Earlier this month, public spending watchdogs at Audit Scotland revealed that the number of patients forced to wait too long in A&E departments had almost trebled in five years.
'Remarkable service'
About 104,000 people waited beyond the standard four-hour target in 2012-13, compared with about 36,000 in 2008-9, Audit Scotland found.
Mr Neil paid tribute to NHS staff who "provide a remarkable service, day in, day out, to ensure that patients who have the most imminent need get access to the fastest possible treatment".
He added: "That is why I am so pleased to see that our vital unscheduled care services both in and outwith hospitals have been supported by an additional £10m in central funding and over £20m from local investment, in the first year of our unscheduled care action.
"To see the range of improvements that has already come out of this investment is substantial and we must now build on this initial progress over the next two years."