Scottish land ownership mapping plan unveiled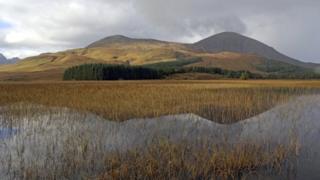 A mapping project to work out who owns every part of Scotland is to be completed within 10 years.
Environment Minister Paul Wheelhouse announced the project, days after a group published a report on land reform.
He said he agreed "a fundamental step on this journey must be having a clear understanding" of who owns land in Scotland.
However, Scottish Land & Estates warned the timescale was "very ambitious".
Mr Wheelhouse added: "This is a vital underpinning step in Scotland's land reform journey and will ensure that at last everyone will know who owns Scotland."
He argued that land transactions were "more difficult and expensive" if land was not already registered.
Registers of Scotland has been asked to finish the register in a decade, with all public land registered within five years.
Land reform review
The Land Reform Review Group set out 62 recommendations in a report on Friday.
Among the suggestions, it called for a new law to limit how much land any single person can own in Scotland.
It said councils should be given the right to force the sale of vacant or derelict plots.
The group, set up in 2012, wants the Scottish government to be "radical in its thinking and bold in its action".
The review group also said local government taxation needed to be modernised and that serious consideration should be given to introducing a system of land value taxation, which could be an alternative to the council tax.
Responding to the mapping project announcement, Land Reform Review Group chairwoman Dr Alison Elliot said: "We are pleased that the Scottish government has been so prompt in deciding to implement one of the recommendations made by the Land Reform Review Group.
"Setting a target for completing the register of land ownership will bring closer the day when there is a definitive answer to the question: 'Who owns Scotland?'.
"We hope that this momentum is maintained as the Scottish government gives consideration to our other recommendations."
The Scottish government appeared to rule out one recommendation on taxation within hours of the group's report being published.
'Long and complex'
Experts said there was no clear public interest in keeping a universal exemption of agriculture, forestry and other land-based businesses from non-domestic rates.
The government stated: "We can confirm there are no plans to make changes to the position of agricultural business rates relief."
The Scottish Land & Estates welcomed news of the project but also warned the government that the 10-year deadline to complete the project was an "ambitious" one.
The group's chief executive Douglas McAdam said: "The collection of better data on land ownership at a national level is something Scottish Land & Estates continues to support, however this is a very ambitious target."
"To register just one estate can take many years and so if dozens of estates started applying to the register at the same time the system would struggle to cope. It is also a highly costly process to prepare all the information required to register on the Land Register."
He added: We look forward to working with the government, our members and the registers of Scotland to achieve this very ambitious target, but in order for this to be completed within the 10 years, it will require considerable extra resources and funding support to make it happen."