Scottish independence: Inquiry highlights EU conflict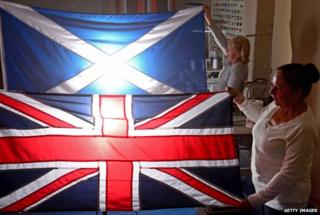 The on-going conflict over an independent Scotland's membership of the EU has been highlighted by a Scottish Parliament inquiry.
Holyrood's cross-party European committee said there were concerns the process was "likely to be complex" and the timescales could be "challenging".
MSPs noted other opinion that the Scottish government's plan to negotiate membership in 18 months was achievable.
The report came ahead of the 18 September independence referendum.
Scottish ministers have said a post-Yes Scotland would negotiate its EU membership "from within", but opponents have argued talks could be lengthy.
The Holyrood inquiry concluded: "This report has set out a considerable amount of evidence on the Scottish government's proposals for independence and membership of the EU, as well as on the value of EU membership to Scotland and the role of small states in the EU.
"While the committee believes that this report has taken the debate further on, it also recognises that some of the witnesses felt that there is still a lack of certainty as to how Scotland would become a EU Member State, that the process is likely to be complex, and that the timescales could be challenging."
'Role to play'
The report added: "The committee also notes that the evidence of other witnesses, who agreed that Article 48 of the EU Treaty, offers a suitable legal route for an independent Scotland's membership of the EU, that an independent Scotland should approach EU membership negotiations on the principle of continuity of effect, and that an independent Scotland's membership of the EU can be agreed within 18 months."
The 94-page report, published following an inquiry lasting more than five months, also concluded: "The weight of the evidence heard by this committee agreed that continuing in the European Union would be in Scotland's best interests."
It said is was accepted that small states, which form the majority of EU members, "have a role to play".
The committee said it hoped its report would inform voters in the run-up top the referendum, adding that they, "may find some strands of the evidence presented more persuasive than other strands".
Scottish External Affairs Secretary Fiona Hyslop, said: "Scotland is a European nation and has been an integral part of the European Union for 40 years.
"Quite simply it is in the best interests of those throughout the EU for Scotland and its citizens to remain part of the EU - and this report shows a number of leading experts support that position."
Labour MSP Alex Rowley, a member of the European committee, said the report did not represent the views of all its members.
"It's hugely frustrating that, after taking evidence to give a balanced picture of Scotland's relationship with Europe, the SNP has used its majority position to produce a report which doesn't accurately reflect the overall picture."