Scottish independence: Research fund concerns over 'Yes' vote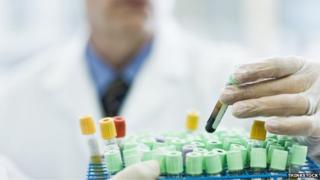 Professors from all five of Scotland's medical schools have written an open letter expressing "grave concerns" that independence could jeopardise research funding.
Scottish institutions won £257m from the UK Research Council last year.
The Scottish government has said that ground-breaking medical research would continue in an independent Scotland.
It wants to create a common funding area with the rest of the UK in the event of a "Yes" vote.
But the letter from the academics said this would be "fraught with difficulty" and success would be "unlikely".
The open letter from the academics says: "If Scotland were to withdraw from the UK and create its own Scottish Research Council our research community would be denied its present ability to win proportionately more grant funding than the country contributes to a common research pool.
"However, rather than 'going it alone' the Scottish government aspires to join with the remaining UK in creating a common research funding area.
"Even if this could be negotiated it is highly unlikely that the remaining UK would tolerate a situation in which an independent 'competitor' country won more money than it contributed to drive its research, develop capital projects and infrastructure, and train its research workforce.
"We regard creation of a post-independence common research area as an undertaking fraught with difficulty and one that is unlikely to come to fruition."
'Competitive arena'
The statement is signed by a group of 14 professors.
It claims that Scotland's leading research universities have felt obliged to remain neutral because they receive Scottish government funding.
The letter concludes: "Growing out of our profound commitment to Scotland are grave concerns that the country does not sleepwalk into a situation that jeopardises its present success in the highly competitive arena of biomedical research."
The letter is signed by Prof Dario Alessi, Prof Jean Beggs, Prof Colin Bird, Prof Sir Adrian Bird, Sir David Carter, Prof John Coggins, Prof Richard Cogdell, Prof Sir Philip Cohen, Prof James Garden, Prof Neva Haites, Prof Nicholas Hastie, Prof Wilson Sibbett, Prof Karen Vousden and Prof Roland Wolf.
'Greater collaboration'
Professors Bryan MacGregor and Murray Pittock, responding for the pro-independence group Academics for Yes, rejected the conclusions made in the letter.
They said: "Several bilateral arrangements exist between the UK and the Republic of Ireland.
"These include joint funding arrangements between the UK Arts and Humanities Research Council and the Irish Research Council for Humanities and Social Sciences, the merging of the postgraduate research councils of the Republic and Northern Ireland, and an agreement giving the universities of Ulster and Queen's University Belfast access to the Republic's scientific research funding scheme.
"Why would an independent Scotland be treated differently?"
They also pointed to what they termed "significant current concerns" about the UK science funding budget.
They said: "The Campaign for Science and Engineering (CaSE) has noted the cumulative erosion of the science budget of over £1.1bn and CaSE director, Dr Sarah Main, has commented that 'the last four years of a flat cash science budget is biting scientists and engineers and squeezing universities'.
"CaSE also notes that on the proportion of GDP spent on research and development 'the UK languishes towards the bottom of the G8 and well below the EU-28 average'. In an independent Scotland, policies to develop the R&D base would also benefit universities."
The referendum on Scottish independence will be held on 18 September, when voters will be asked the Yes/No question: "Should Scotland be an independent country?"