Gay minister calls on Church of Scotland to accept same-sex marriage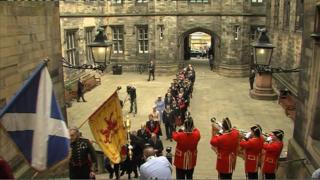 A gay Church of Scotland minister has said he hopes the Kirk will come to accept same-sex marriage.
Rev Scott Rennie's appointment in 2009 nearly caused a damaging rift in the church.
Speaking following a church vote on the ordination of gay ministers, he urged colleagues opposed to same-sex marriage to debate the issue with him.
The Kirk did not back the same-sex marriage legislation which was approved by the Scottish Parliament in February.
Traditional stance
At its annual gathering at The Mound in Edinburgh, the Kirk's general assembly voted on Wednesday to allow presbyteries to debate whether congregations can opt out of its traditional stance and appoint gay ministers.
Speaking to reporters at the Kirk's Assembly building, Mr Rennie said: "I have no doubt that in the next while the Church will have some reflection on marriage and marriage as regards same-sex couples."
He added: "I hope that in time, and it's up to the Church how long it takes, I hope the Church will just come to see 'marriage'."
MSPs passed the Marriage and Civil Partnership (Scotland) Bill, which allows for same-sex weddings in Scotland, by an overwhelming majority but the Church of Scotland opposed the move.
Alan Hamilton, convener of the church's Legal Questions Committee, said mainstream Christian belief was that marriage is "properly between a man and a woman".
'Better understanding'
Mr Rennie said he wanted to talk to fellow church members who opposed gay marriage.
"I would love them to phone me and ask to meet for lunch or a coffee and talk about it," he said.
"The more we talk about the better understanding we can have."
In 2009 some members attempted to block the appointment of Mr Rennie to Queen's Cross Church in Aberdeen, which made him Scotland's first openly gay minister.
At the Kirk's gathering in 2011, commissioners voted to accept gay and lesbian clergy - on the condition they had declared their sexuality and were ordained before 2009.
At this year's gathering, Kirk commissioners passed a motion to send a piece of draft church legislation, known as an overture, to its 46 presbyteries for further discussion.
If the presbyteries choose to go ahead with the move it could become church law next summer.
Thirteen parish ministers from the Kirk's 1,389 congregations have left over the issue since debate on the ordination of gay ministers began in 2009.
"It's sad that some people have felt they've had to leave the church, that they've felt like that, I really am," Mr Rennie said.
"But there has not been the exodus that was predicted at all. Far from it."