NHS must improve complaints handling, report says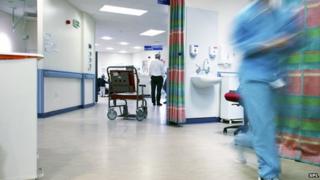 Scotland's public services ombudsman has said improvements must be made in the way complaints against the NHS are handled.
Jim Martin said delays and mistakes in the way complaints were dealt with could cause significant distress and distrust.
The ombudsman's report detailed several examples of poor complaints-handling.
It went on to recommend a new complaints system and better training for NHS staff.
In a strongly-worded report, Mr Martin said that poor complaints-handling represented a "massive missed opportunity" for NHS health professionals and governance teams to learn from mistakes and put things right.
Administrative errors
The report also details examples illustrating where the NHS has failed to deal correctly with complaints made against it.
One example revealed that it took 15 months for a health board to respond to one complaint.
In another, the health board continued to send letters to a woman whose daughter had died in hospital to the wrong address - even though the mother had given them the correct one.
Mr Martin highlighted these as being examples of delays or administrative errors which from the outside could be seen as minor issues.
However, he said this would misjudge the "enormous emotional toll that poor complaints-handling can exact".
"People complaining about the NHS are often bereaved, or aggrieved because they feel that they or their loved one have been unnecessarily harmed," Mr Martin said.
"They are in in search of answers that will move them towards completing the grieving or the recovery process.
"In this context, delays and mistakes in the handling of their complaints can cause significant additional distress and create distrust."
The ombudsman will have a lead role in the development of a more standardised and person-centred complaints process for NHS Scotland, in collaboration with the public, NHS boards and the Scottish Health Council.