Alex Neil no confidence vote rejected by MSPs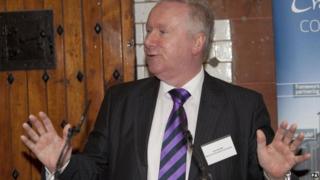 Scotland's health secretary has survived a vote of no confidence in parliament, sparked by a row over NHS cuts in his constituency.
Opposition parties insisted Alex Neil intervened inappropriately to save mental health beds at Monklands hospital in Lanarkshire.
But the Scottish government said Mr Neil acted "entirely appropriately".
The no confidence motion, put forward by Labour, was defeated by 67 votes to 57.
The SNP used its majority in parliament to outvote the combined efforts of opposition parties.
It was only the third time Holyrood had debated such a motion, put forward after First Minister Alex Salmond previously dismissed opposition demands to sack Mr Neil.
The case dates back to 2012, when Mr Neil decided to reverse a decision to remove acute mental health bed provision at Monklands Hospital, in his Airdrie and Shotts constituency, made by his predecessor Nicola Sturgeon.
Labour said documents obtained recently under freedom of information laws showed that, on 26 September that year, Mr Neil's office emailed officials stating the health secretary was "clear in his view that acute mental health facilities should be retained in both Wishaw and Monklands" hospitals.
The party said a subsequent decision by Mr Neil to remove himself from making decisions on the services proved he had "deceived" parliament, because he had already decided to reverse the cuts.
Labour health spokesman, Neil Findlay, told MSPs: "The dogs in the street know what Alex Neil has been up to - he has been caught holding the smoking gun and the first minister and his deputy know it.
"We believe he has misled his constituents. We believe he has misled this parliament."
Conservative MSP John Lamont, added: "I would suggest this is a very sad instance of a minister deliberately allowing an untruth to gain credence in order to avoid difficult questions about his own position."
But Public Health Minister Michael Matheson said Mr Neil's actions were entirely appropriate, having made a decision to remove himself from considering Monklands-related issues, after becoming concerned of a "perception" of a conflict of interest.
Mr Matheson said the no confidence motion was the first time a health minister had been attacked for saving part of the NHS, adding: "But then, there is no smear story too low for the Labour Party, no accusation that they would not seek to use against this SNP government - that's what we've seen today."
The two previous no confidence motions, both put forward by the SNP in opposition, failed when put to the vote.
One questioned the role of the then Labour education minister, Sam Galbraith, during a school exams fiasco in 2000.
A second motion, in February 2001, questioned the role of Labour transport minister Sarah Boyack in awarding trunk roads contracts to private firms.