Scottish independence: Darling pressed on talks ahead of currency union rejection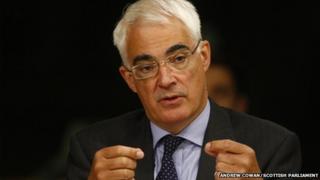 Better Together leader Alistair Darling has refused to reveal if he discussed ruling out a currency union with a senior UK Treasury civil servant.
Mr Darling told MSPs he would not "discuss private conversations" with Sir Nicholas Macpherson.
The former chancellor said he did discuss the matter with the finance spokesmen of the main UK parties.
Yes Scotland head Blair Jenkins said the UK government's currency position was "a campaign tactic".
Senior figures from the rival campaigns for Scottish independence and the Union appeared before Holyrood's economy committee, as part of its inquiry into Scotland's economic future.
Mr Darling faced questions from SNP MSP Joan McAlpine over whether he had discussed ruling out a currency union with "your friend, Nick Macpherson".
In February, Chancellor George Osborne ruled out a currency union between an independent Scotland and the rest of the UK, a position backed by Labour shadow chancellor Ed Balls and the Lib Dem Chief Secretary to the Treasury, Danny Alexander.
At the same time, Treasury permanent secretary Sir Nicholas made his civil service advice on currency public, an unusual step as such advice is normally kept private.
The BBC understands the Better Together leader was instrumental in getting the three Westminster parties to agree a joint currency position.
Mr Darling told the committee: "Of course I've discussed with Ed Balls, George Osborne, Danny Alexander a currency union. It would be extraordinary if I hadn't done."
He added: "It won't surprise you to know that on currency we have a common view."
But he refused to reveal any private conversations he had held with Sir Nicholas, who was also Treasury permanent secretary when Mr Darling was chancellor in the last Labour government.
He confirmed that he met with Sir Nicholas socially as recently as March, a month after the civil servant publicly advised against a currency union.
Later, Mr Jenkins referred to a story in March from the Guardian newspaper, which quoted an unnamed UK minister who said a deal could be done to allow an independent Scotland to use the pound.
Mr Jenkins told the committee the main UK parties' currency position was "a campaign tactic" but did not speculate on any private conversations which Mr Darling may have had.
However, Dennis Canavan, also representing the pro-independence campaign, said: "Sometimes political collaboration can result from informal conversations with friends."
He added: "I am very suspicious about the timing of all of this and it seems to me rather coincidental - it's too much to say it's simply coincidence that the three spokespersons for the three major political parties at Westminster suddenly came together and said we are ruling out completely any currency union."
A currency union with the rest of the UK is the preferred option of the Scottish government, and is set out in its White Paper on independence.
Mr Canavan said that, ahead of the White Paper, he had "expressed a personal view expressing support for the principle of an independent Scottish currency" but argued that the Scottish government had an electoral mandate for its position.
Last week Sir Nicholas told MPs on the Scottish affairs committee at Westminster that he had published Treasury advice because these were "exceptional circumstances". He denied that there had been any pressure from his current boss Mr Osborne.
The evidence session came ahead of the 18 September referendum, which will see voters asked the Yes/No question: "Should Scotland be an independent country?"