Health Secretary Alex Neil to face no confidence motion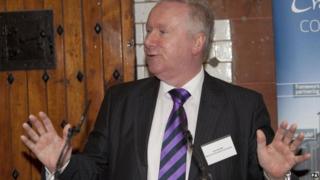 Labour has tabled a parliamentary motion of no confidence in Health Secretary Alex Neil.
Labour has claimed that Mr Neil intervened to save mental health beds at Monklands hospital in his constituency.
The party alleged the health secretary then removed himself from future decisions on the matter to avoid the appearance of a conflict of interest.
First Minister Alex Salmond insisted Mr Neil acted "perfectly properly".
Scottish Labour leader Johann Lamont has called on the first minister to sack his health secretary. Mr Salmond has refused to do so.
The no confidence motion, the first in the Scottish Parliament for more than 13 years, has been tabled by Scottish Labour's health spokesman Neil Findlay.
Mr Findlay said emails released under freedom of information laws were "damning" and he also alleged the mental health wards at Monklands contained asbestos.
The Conservatives and the Liberal Democrats have indicated that they will support the motion.
'Acted properly'
Ms Lamont raised the Monklands case, which dates back to 2012, during first minister's questions last week.
She said documents obtained under FoI laws showed that, on 26 September 2012, Mr Neil's office emailed officials stating the health secretary was "clear in his view that acute mental health facilities should be retained in both Wishaw and Monklands" hospitals.
She also claimed: "He then deceived this parliament and deceived the people of Scotland by saying he would take no part in the decision he had already made."
The first minister said he had previously looked into the issue in February 2013 and had responded then.
He told MSPs that Mr Neil, aware of a possible conflict of interest, had decided mental health services at Monklands should be dealt with by Public Health Minister Michael Matheson.
Mr Salmond added: "That is exactly how ministers should behave under these circumstances.
"I looked at the issue carefully last year. I came to the conclusion Mr Neil had acted perfectly properly."
Monklands Hospital is in the Airdrie and Shotts constituency, which Mr Neil has represented since 2007. He was first elected having campaigned to save the accident and emergency unit at the hospital.
'Damning emails'
Mr Findlay said: "Despite all the evidence to the contrary, Alex Neil and Alex Salmond continue to blindly claim that no wrongdoing has taken place with the health secretary's involvement in mental health services at NHS Lanarkshire.
"Nearly a week after these damning emails were released under FoI, Alex Neil's explanation as to why he meddled in local services and then claimed he had excused himself from the decision have not been satisfactory.
"Medical experts stated that keeping Monklands wards open would result in a 'less than optimal service' for patients. Yet Alex Neil has been unable to provide any clear rationale or evidence for changing the decision, which is contrary to his own health policy of delivering health services in communities wherever possible.
"Now that it has emerged the wards he ordered to save contain asbestos, his position has been made even more difficult.
"His failure to come up with answers to the questions being asked of him mean he is not fit to be running our health service."
MSPs will hold a 45-minute debate on the motion on Wednesday afternoon.
The last minister to face a no confidence vote was Sarah Boyack in February 2001.
Ms Boyack, then Labour transport minister, faced a motion from the SNP after the contract to maintain Scotland's trunk roads was awarded to two private companies.
She survived the vote by 70 votes to 33, with 16 abstentions.