Scottish independence: Tories claim 'Yes' vote could mean higher VAT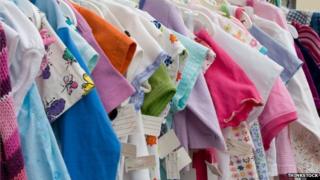 Scottish independence could mean Scots paying more VAT on goods such as children's clothing, according to the Scottish Conservatives.
A senior EU official confirmed that new member states must apply a minimum VAT rate of 15% with limited opt-outs.
The Tories said it could raise the cost of items like baby grows, children's football kits and bike helmets.
Pro-independence campaigners argue Scotland could join the EU from within and called the claims "scare stories".
The UK has a longstanding opt-out on VAT for 54 items such as children's clothing, books, disability equipment and construction work on naval vessels.
European Commissioner for Enlargement Stefan Fule confirmed, in response to a query by Tory MEP Struan Stevenson, that new member states would have to apply a standard VAT rate of at least 15%.
He added that the option of setting a reduced rate of 5% would apply to a limited list of goods.
The Tories said the standard EU rate of 15% would see the price of a Scotland football kit for children increase by more than £5.
A bicycle helmet would cost an extra £7 while the price of the Guinness Book of Records annual would jump by £3.
Mr Stevenson said: "As part of the UK, Scotland enjoys the best of both worlds with a 100% guarantee that we can avoid this tax. The UK negotiated hard to win this opt-out and we want to keep it.
"HMRC list 54 different items that currently enjoy zero-rates of VAT in the UK, ranging from children's clothes to books and newspapers, and even large swathes of the construction sector like shipbuilding. Why put such a substantial benefit at risk?"
Experts divided
Experts are divided over whether an independent Scotland would have to apply to the EU as a new state, or would continue with the UK's existing rights and opt-outs.
"Yes" vote campaigners argue that Scotland has been a member of the EU for 40 years and could negotiate the transition to independent membership from within.
SNP European Parliament candidate Tasmina Ahmed-Sheikh said the Tory claims were irrelevant because Scotland would not be treated as an accession state.
She added: "The 'No' campaign is clearly incapable of learning from just how quickly Project Fear's previous scares have all collapsed.
"Whether it was mobile roaming charges or driving on the right-hand side of the road, losing the pandas at Edinburgh zoo or risking attacks from outer space - the 'No' campaign has time and again been left looking utterly foolish."