Scottish airgun licensing bill introduced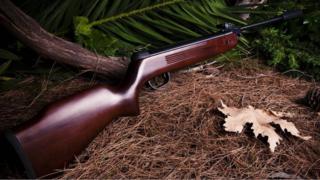 Anyone who owns an airgun will need a licence under new measures proposed by the Scottish government.
The licensing system is included in a new bill that has been laid with the Scottish Parliament to impose tighter controls on air weapons.
The proposals follow a long-running campaign by the Scottish government to crack down on the misuse of airguns.
It followed the death of two-year-old Andrew Morton, who was shot in the head with an airgun in Glasgow in 2005.
Mark Bonini was later convicted of murdering the toddler.
The Air Weapons and Licensing (Scotland) Bill laid before Holyrood seeks to introduce strict licensing measures for the estimated 500,000 air weapons in Scotland.
Under the proposed new scheme, anyone wanting to own an air gun would need to demonstrate they had a legitimate reason for doing so.
These reasons may include pest control, sporting target shooting, or being a collector.
The bill creates a number of new offences related to possession, use and acquisition of air weapons by people who do not hold a licence, or who do not act in accordance with the licensing regime.
It also sets out the framework through which Police Scotland may grant an air weapon licence to appropriate individuals.
Scottish Justice Secretary Kenny MacAskill stressed that the legislation would not ban airguns outright, and said the proposals would not prevent people using them for legitimate reasons.
Mr MacAskill said he had recently met the mother of Andrew Morton, close to what would have been the boy's 12th birthday.
He added: "To see and hear the continued pain his family has gone through only serves to make me even more determined to ensure we have robust legislation to prevent future tragedies.
"Such tragic incidents are, thankfully, very rare, but every day police and animal welfare groups have to deal with the results of air weapons being misused.
"As well as causing daily anti-social behaviour and vandalism they can also cause horrific injuries to wildlife and family pets by those who maliciously target animals."
The justice secretary said the licensing regime for air weapons represented an "important first step" towards devolving all powers on firearms to Holyrood, something the Scottish government has been pressing the UK government for.
The Scottish government carried out a consultation on setting up a licensing system for air weapons in 2012.
An overwhelming majority - 87% - of those who responded to the consultation opposed the plan, with some describing it as "draconian" and "heavy-handed".
But the proposals were welcomed by police and victim groups.
Figures released by the Scottish government in November showed the total number of firearms offences recorded in Scotland fell by a third in the past year, from 535 to 365.
Of these, almost half - 171 - involved air weapons.
The British Association for Shooting and Conservation (Basc) described the licensing system as a "unnecessary, costly and impractical".
It said the legislation would place unnecessary burdens on police time and budgets, would only be taken up by already law-abiding airgun users, and would have little effect on criminal misuse.
Dr Colin Shedden, director of Basc Scotland, said: "Offences involving air weapons in Scotland have fallen by 75% in recent years. In 2006-07 there was a ten-year-peak of 683 air weapon offences. In 2012-13, after six years of steady decline, there were 171 offences.
"In addition, all firearms offences are now at the lowest level since records began. Airguns are already extensively regulated by law, with more than thirty offences on the statute books. Bringing in this legislation will not deter those who are already determined to break the law."
Holyrood was given powers over air weapons as part of changes made to devolution in the Scotland Act.
The bill will also bring in tighter licensing for scrap metal dealers in a bid to curb metal theft, including new rules that will ban dealers from making cash payments.
It will also create new offences aimed at tackling under-age drinking, and a new licensing regime for lap dancing venues which will give greater local control over their numbers.