Scottish independence: Pension age plan 'not fair on Scots'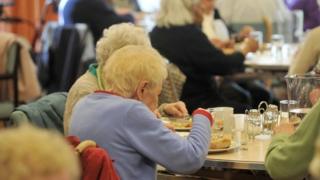 A UK-wide plan to raise the retirement age is unfair to Scots, according to Holyrood's new pensioners' rights minister.
Shona Robison said lower life expectancy in Scotland "short-changes" pensioners by thousands of pounds.
She said the pension age rise would be reviewed if Scotland voted for independence in September.
Pro-Union parties insisted pensions were more affordable as part of a UK-wide system that pooled resources.
State pensions are paid to men from 65 and women from 61, but the pension age is set to increase to 67 for all by 2028.
Office of National Statistics figures show that Scotland has the lowest life expectancy in the UK.
According to a pensions analysis produced by the Scottish government, a 65 year-old woman entitled to a total pension of £160 per week could expect to get around £11,000 less in Scotland than counterparts in the rest of the UK. The figure for men is £10,000.
The analysis states that for people from Glasgow, who have the lowest life expectancy in Scotland, this "pensions gap" is even bigger, at £29,000 for men and £22,000 for women.
Scots 'disadvantaged'
Ms Robison said these differences in life expectancy would be "compounded" by UK government plans to raise the retirement age to 67.
She added it would be "fairer" if this was postponed and has promised a review in the event of independence.
"It is right for Scotland to consider a state pension age relatively lower than the rest of the UK," she said.
"I am concerned about Westminster's accelerated timetable for increasing the state pension age to 67 as it so unfairly disadvantages Scots.
"People living in disadvantaged areas miss out even more - with men in Glasgow seeing £50,000 less over their lifetime than someone of the same age living in Harrow."
She added: "We want to make sure that the pension age suits Scottish circumstances - and, on average, people in Scotland have fewer years in retirement receiving the state pension because life expectancy is lower.
"Life expectancy is improving but progress will take time, and we don't want Scots to be disadvantaged in the meantime."
'Sharing costs'
However, Scottish Labour MP Gregg McClymont, the shadow UK pensions minister, insisted pensions were more affordable as part of the UK because resources could be pooled to share the costs of "Scotland's rapidly growing elderly population".
He said: "No amount of cooking the books can wish these facts away and the Scottish government should just be straight with people.
"For the nationalists to suggest the best way to be able to pay for pensions in Scotland is if we continue to die younger is frankly appalling."
He added: "The Scottish Parliament already has the power to improve the life expectancy of Scots, with control over health, education and local services.
"Maybe if Nicola Sturgeon focused more on the day job instead of spending all her time campaigning for separation things would improve."
Voters in the independence referendum, on 18 September, will answer the yes/no question: "Should Scotland be an independent country?"
Blair Jenkins, the chief executive of the pro-independence Yes Scotland campaign, said: "Older Scots know only too well the benefits of living in a society where we look out for one another and make sure people can lead comfortable lives in their later years. That hasn't been a top priority for any UK government in a very long time.
"In Scotland we value strong public services and decent homes, and the record of the Scottish Parliament is much better than Westminster in delivering on these priorities."
However, the Department for Work and Pensions (DWP) said delaying increasing the pension age to 67 could cost an independent Scotland about £6bn in additional pensions costs between 2026-27 and 2035-36.
A DWP spokesman added: "The current Scottish government have still not said how they are going to pay for around £1.55bn a year social security costs over the next two decades.
"It needs to come clean about how it would fund these proposals - it is difficult to see how this support would be maintained without higher taxes or cuts to services."