Salmond offers meeting with Ukrainians over Putin row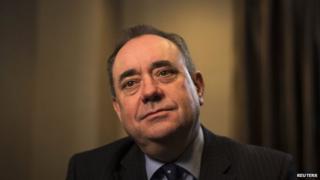 The first minister has offered to meet Ukrainians in Scotland after the row over his qualified praise for Russian president Vladimir Putin.
Alex Salmond has replied to a letter from Ukrainian community leader Michael Ostapko, who urged him to apologise.
Mr Salmond condemned "the illegal annexation of the Crimea" and said some comments were taken out of context.
Mr Ostapko described the letter as "tardy" but agreed to meet with Mr Salmond to outline his concerns.
In an interview for GQ magazine conducted seven weeks ago, the first minister said it was a "good thing" that Mr Putin had substantially restored Russian pride.
The remarks angered Ukrainians in Scotland in the light of Russia's annexation of Crimea.
In his reply to Mr Ostapko, the first minister said it was a matter of regret that some of the comments had been reported "out of context".
Mr Salmond did not offer an apology, but wrote: "As I made clear in the interview, and elsewhere, I disapprove of as range of Russian actions.
"Indeed, I have had no hesitation in condemning Russia's activities in the Ukraine, the illegal annexation of the Crimea and its continued support for armed militia in the east of the country.
"The Scottish government has also consistently raised and opposed the Russian government's stance on human rights, freedom of expression and homosexuality."
The first minister concluded: "The Scottish government values the substantial contribution made by members of the Ukrainian community in Scotland and I would be very happy to visit the Ukrainian Community Centre to meet with yourself and others in due course."
Mr Ostapko described the letter as a "somewhat tardy explanation" but has decided to take up the first minister's offer.
In response to Mr Salmond's letter, Mr Ostapko said: "We asked that he make an unequivocal public apology. He has not done so.
"Instead we received a standard, somewhat tardy explanation strewn with political party rhetoric and little on the only matter we raised from his GQ interview; the praise of Putin the architect of the dismantling of a nation, UKRAINE (not the Ukraine, an offensive description to Ukrainians)."
Mr Ostapko questioned some of the actions of the Scottish government in response to the Ukrainian crisis and said he would raise them with the first minister when they meet.