Scottish independence: Ed Miliband offers new 'contract' with Scotland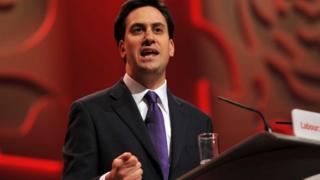 Ed Miliband has promised new powers for the Scottish Parliament if Labour wins the 2015 UK general election.
The Labour leader said a Scotland Bill would be included in his government's first Queen's Speech.
The bill would contain new powers over income tax, housing benefit and the work programme which were proposed by a party commission on devolution.
But SNP MSP Fiona Hyslop said only a vote for independence would guarantee real change in Scotland.
Speaking in Dundee, the Labour leader said he wanted to establish a new "contract" with the people of Scotland.
Mr Miliband said that, with Scotland due to vote in the independence referendum in September, the country could either be benefiting from a Labour government 12 months from now or could be in the middle of complex negotiations to leave the United Kingdom.
He insisted that devolution was still the "settled will" of the Scottish people.
Devolution commission
"When Labour came to power in 1997, the first piece of legislation to be discussed under the first Labour government in 18 years was the bill to bring about the referendum on devolution that led to the creation of the Scottish Parliament," he said.
"We have always been the party of devolution.
"And today I want to reaffirm that belief in devolution, with a promise that Labour will bring forward in its first Queen's Speech a new Scotland Act to put into law the powers proposed by Scottish Labour's Devolution Commission.
"These will include the far-reaching powers over income tax, housing benefit and the work programme. Not powers for the sake of it, but powers for a purpose."
A Scottish Labour commission to examine devolution reported in March, recommending that the Scottish Parliament be given the power to vary tax rates by up to 15p in the pound. Overall, MSPs would have the power to raise about 40% of revenues.
Other recommendations included the devolution of housing benefit, enabling MSPs to abolish the under-occupancy penalty - which opponents have dubbed the "bedroom tax" - and more powers over health and social care policies, transport and elections.
However, financial and economic matters, foreign affairs, pensions and the majority of benefits would remain reserved to Westminster.
Five pledges
A new Scotland Act was one of five pledges outlined by Mr Miliband. The others were:
restoring the 50p tax rate for those earning more than £150,000 and introducing a 10p tax rate for low earners
a freeze in gas and electricity prices
a jobs guarantee providing Scottish young people who have been out of work for 12 months or more with a six-month-long, paid job
a ban on the most "exploitative" types of zero hours contracts
Mr Miliband argued that only Labour, working in Scotland and across the UK, could deliver social justice.
He said: "This is what I want to do to change our country. And I want Scotland to be part of it.
"I know that we can only achieve changes like this for Scots by working as part of the United Kingdom.
"As part of a union where we can pool resources and share risk, and not set one part of the country against the other in a race to the bottom."
Ms Hyslop, the Scottish government's culture and external affairs secretary, told BBC Scotland that Westminster promised more powers for Scotland ahead of the 1979 referendum on devolution, which were not delivered.
"People were told in 1979 if they voted 'No' they would get more powers, and they ended up getting 18 years of Conservative government," she said.
"The only way to get the powers we need is to vote 'Yes'."