Scottish independence: Athletes 'could choose Team Scotland' for Rio Olympics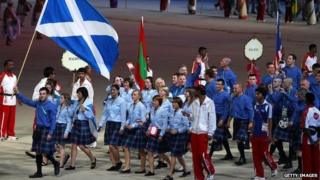 Scottish athletes could choose between Team GB and Team Scotland for the 2016 Olympics, if the country votes for independence, a report has said.
The independent analysis was compiled by former Labour first minister Henry McLeish, for the Scottish government.
He concluded that there were "no obvious barriers" to Scotland competing at the Games in the Rio Olympics.
But Vice President of the International Olympic Committee (IOC) Sir Craig Reedie, doubted this was achievable.
He said an independent Scotland would first need to gain membership of the United Nations.
The Working Group on Scottish Sport was appointed last September to examine the development of sport in an independent Scotland.
Over six months, the group considered a range of topics including the action required to ensure Scotland can be successful in future Olympics and Paralympics in its own right, and the steps required to ensure it remains a country of "sporting excellence".
Athletes' needs
In his conclusions of the report, Mr McLeish said: "While the final decisions on such matters will lie with the IOC and IPC (International Paralympic Committee) and there is an application process, we see no obvious or major barriers to securing Olympic and Paralympic accreditation for an independent Scotland.
"We can see no identifiable barriers that would restrict the aspiration for an independent Scotland to compete in the Rio Games in 2016."
He added: "The Scottish government should have very early dialogue (in advance of the referendum) with the IOC and IPC in order to clearly demonstrate the maturity and history of Scotland as a sporting nation, its status as a fair and just society and its readiness to engage in the Olympic and Paralympic movement.
"There are however, likely to be challenges to putting in place the necessary support to entice athletes currently training within the Team GB infrastructure to compete for Scotland (specifically with team sports).
"The group believes Scotland can build on the approach already in place that supports athletes up to Commonwealth Games level and therefore this places Scotland in a strong position."
Mr McLeish also said that any programmes and systems in place to prepare Scottish athletes for international competition must be centred around the needs of the athlete and, even within a Team GB structure, he would expect to see Scots train and live in Scotland if this was in their best interest.
He said this may require training to take place in various parts of UK, Europe or further afield.
Mr McLeish added that in the event of independence, athletes would have the ability to choose which nation they wished to compete for, Team Scotland or Team GB as the Olympic charter states that "a competitor who is a national of two or more countries at the same time may represent either one of them, as he may elect."
'World stage'
Responding to the report Sir Craig said: "I really don't know how long it takes an independent nation to get membership.
"Gaining membership of the United Nations, historically and politically, is not always an easy thing but there must be a process and it must take some time.
"Entries close for the Olympics in July of 2016 so I think it would be a real rush."
He added: "Presumably a Scottish Olympic Committee would wish to have its own qualifying standards, so there would be a lot to do. I'm not sure it could be achieved in the time limit."
Sport Secretary Shona Robison said: "I welcome this independent report that shows Scotland will continue to be a sporting success on the world stage.
"Sport and physical activity is a catalyst to a healthier Scotland and the group suggests ways to get as many people as possible, especially our young people, more active by better utilising our world-class facilities.
"I look forward to discussing the whole report with colleagues across government and we will respond to the recommendations in this report in full in due course."
A spokesman for Better Together said: "As part of Team GB, Scotland has the chance to shine on the global stage. The 2012 Olympics showed what we can achieve when we work together across the whole of the UK.
"As the vice president of the IOC has said, setting up a new Olympic team in a matter of months that is ready to compete in 2016 simple isn't credible. As with everything in this referendum, the nationalists simply tell us that it will be alright on the night.
"As part of the UK we can have the best of both worlds - we can cheer on our Scottish athletes to Olympic glory, and we can benefit from being part of the larger Team GB. Only separation puts that at risk."