Scottish independence: Deaf voters critical of referendum campaigners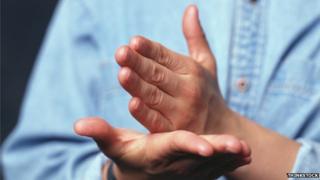 Scottish independence referendum campaigners have neglected the needs of deaf voters, it has been claimed.
John Denerley, from charity Deaf Connections, believes not enough has been done to inform and engage with those who are unable to hear.
He spoke after the BBC found just 29 copies of a sign language version of the White Paper had been sent out.
Mr Denerley said it was a ridiculously low number for Scotland's 5,000 British Sign Language (BSL) users.
The people of Scotland will be going to the polls on 18 September to vote in the independence referendum.
They will be asked the "Yes/No" question: "Should Scotland be an independent country?"
'Frankly embarrassing'
The Scottish government, and both the "Yes" and "No" campaigns, said they were engaging with voters who were disabled.
BBC Scotland made a Freedom of Information (FoI) request to find out the alternative ways people had of accessing the Scottish government's White Paper on independence.
It found that, as well as the 29 sign language DVDs, there had been eight ordered in Braille along with 54 audio copies.
Mr Denerley said: "It's ridiculous, shocking, and frankly embarrassing only 29 copies have been ordered.
"You're talking about over 5,000 British Sign Language (BSL) users in Scotland, and that shows there's been no publicity around these alternative versions of the White Paper.
"Even as a deaf organisation, Deaf Connections has not received any of the BSL versions.
"What they should have done is contact all the deaf organisations and given them a whole host of them to give out to deaf people in their communities."
He added that a member of the deaf community had written to both campaigns asking for more accessible websites - only to be told BSL videos had not been sent out due to cost.
Mr Denerley told the BBC: "What we'd rather is have someone from each of the campaigns come and speak to the deaf community in person, and maybe have BSL video on their campaign websites."
Ian Brown, a spokesman for the Scottish arm of the RNIB, said it had received no complaints regarding the Braille version of the White Paper.
According to RNIB figures, 35,000 people in Scotland are formally registered as blind or partially sighted.
Mr Brown explained the low number of orders for the Braille version could be due to the fact only 1% of the blind community in Britain reads Braille.
He added: "Many people with sight loss now also use screen-reading technology, which means I could email someone with sight loss the entire White Paper, and they'd be able to read it."
A Scottish government spokesman said it had had informal discussions with a number of deaf and blind support organisations to "promote the versions we have".
He added: "We have issued them [organisations] with copies to use with the people they work with - with a clear steer that individuals can ask for their own copies as need be.
"When people request alternative versions of the summary document we respond and make them available as quickly as possible as we would the main document."
A spokesman from the Better Together campaign said hyperlinks to alternative versions of the White Paper were available on its website.
Easy read format
He said: "All of our grassroots activities seek to engage with all communities.
"One particular example to highlight is our partnership with the British Deaf Association (BDA) to engage with the deaf community in local areas to make our case with BSL translators present."
A Yes Scotland spokesman also said its campaign was engaging with the blind and deaf communities in the countdown to September's referendum.
He added: "We've also worked with Sign4Scotland to produce videos of some of our high-profile supporters making a 'Yes' message and many of our leaflets are available in an Easy Read format."
A Radio Scotland programme, broadcast on 19 and repeated on 20 May, examined whether disabled people would be better or worse off in an independent Scotland. Watch again on the BBC iPlayer.