Scottish independence: Moody's predicts Scotland would get an 'A' credit rating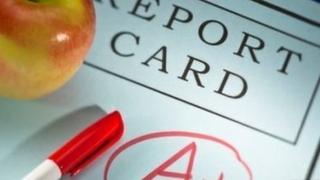 Scotland would likely hold a lower credit rating than the rest of the UK immediately after independence, according to the ratings agency Moody's.
The agency predicted an independent Scotland would hold an investment-grade A rating - below the UK's current Aa1.
But it said Scotland could achieve a higher credit rating over time.
Independence would be unlikely to affect the credit rating of the remainder of the UK, it said.
The Moody's report said an independent Scotland's credit profile would "almost certainly be consistent with an investment grade rating".
It added: "While there are significant uncertainties associated with Scottish arrangements post-independence, an 'A' rating is perhaps the most likely at the outset, but with risks tilted to the downside.
"Over time, greater clarity over (and confidence in) Scotland's institutional structure and measures to address longer-term fiscal issues could make higher rating levels attainable."
An 'A' rating would give Scotland a similar rating to countries such as Poland, the Czech Republic and Mexico, but would be at least two notches below the UK's current Aa1 rating, meaning borrowing costs for the newly independent government would likely be higher.
Moody's said the impact of redenomination on outstanding debts in a new currency, given its expectation that the UK authorities would likely refuse a currency union, would be the most significant factor for Scotland's credit rating.
It said that, under this scenario, many bank deposits "would need to be redenominated into a new currency that might not possess the external purchasing power of sterling."
North Sea oil
It added: "Beyond redenomination, however, it is unlikely that independence would have widespread material credit or rating implications".
However, the report noted that Scotland would risk starting off with a speculative-grade rating - commonly referred to as "junk" - if the independence vote triggered protracted, acrimonious talks between London and Edinburgh.
Last year, Moody's became the first of the three major ratings agencies to cut the UK from its highest AAA rating to Aa1.
In its reports, it said the small size of the Scottish economy relative to that of the remainder of the UK, along with Scotland's likely investment-grade-rating, meant any impact on the rest of the UK's credit rating was likely to be "limited".
It added: "In terms of credit positive elements, Moody's notes that Scottish independence would eliminate the current fiscal transfers between Scotland and the remaining regions of the UK, marginally improving fiscal dynamics for the remainder of the UK given higher Scottish per capita public expenditures and Scotland's older demographic profile.
"Any division of revenues from North Sea oil would be largely credit neutral for the UK sovereign given that they are small, and declining, relative to the size the UK economy.
But Moody's said "potential risks" to this assessment would arise if Scotland refused to assume a "fair and proportionate share" of its debt obligations, which would increase the UK's net debt burden and would be considered credit negative.
It also said a potential currency union between an independent Scotland and the remainder of the UK would be credit negative if it was to materialise.
However, it said the "cross-party opposition" of the Conservatives, Labour and Liberal Democrats made such a currency union "unlikely".
Responding to the Moody's report, Danny Alexander, the chief secretary to the UK Treasury said: "As part of the UK, Scotland can avoid a double downgrade for its credit rating and maintain lower borrowing costs for Scottish businesses and families.
"Moody's also confirm why the UK should not join a currency union - because it would then also have a weaker credit rating.
"Together as the United Kingdom we are all better off."
But a spokesman for Scottish Finance Secretary John Swinney said another ratings agency, Standard and Poor's, had previously predicted an independent Scotland would qualify for its "highest economic assessment".
He added: "The Westminster government are just about the last people who should be attempting to make political capital on the issue of credit ratings, given that the No campaign's previous boasts came unstuck when the UK was stripped of its AAA status by international agencies, while other, smaller European nations retained a top rating.
"Indeed, almost two thirds of the countries deemed to have AAA status by Standard & Poor's have a population of less than 10 million.
"Year-on-year, Scotland is in a stronger financial position than the UK as a whole. And Scotland's public sector debt is lower than the UK's, and lower than the EU and G7 average, confirming our underlying economic strength."