No Alex Salmond apology over Vladimir Putin comments row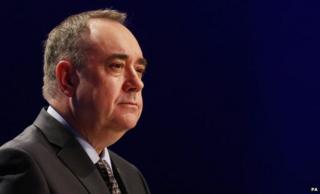 Scotland's first minister has refused opposition demands to apologise for remarks he made about admiring Russian president Vladimir Putin.
Alex Salmond commended Mr Putin on "restoring a substantial part of Russian pride" in a magazine interview conducted six weeks ago.
In parliament, the Labour, Conservative and Liberal Democrat leaders asked him to withdraw the comments.
Mr Salmond said he "didn't approve of a range of Russian actions".
The row, during first minister's questions at Holyrood, came after Mr Salmond gave a wide-ranging interview with GQ magazine, which has now been published.
It was conducted by former Labour spin doctor Alistair Campbell, before Russia annexed the Ukrainian region of Crimea.
Asked about whether he admired Mr Putin, Mr Salmond is reported to have said: "Certain aspects. He's restored a substantial part of Russian pride and that must be a good thing.
"There are aspects of Russian constitutionality and the inter-mesh with business and politics that are obviously difficult to admire. Russians are fantastic people, incidentally, they are lovely people."
Attacking the first minister, Scottish Labour leader Johann Lamont, said: "According to Amnesty International, Vladimir Putin has effectively criminalised homosexuality, has cracked down on democratic dissent, carries out arbitrary arrests and has corrupted the judicial process.
"Then, there are the many journalists who have disappeared after criticising the Kremlin, yet the first minister has expressed his admiration for Putin.
"Will the first minister now withdraw his ill-judged comments and apologise to the people of Scotland and the people of Ukraine?"
Ruth Davidson, the Scottish Conservative leader, added: "On the same day the first minister sat down with Alistair Campbell, 10,000 Russian troops were massing on the Ukrainian border.
"Ukraine's prime minister said Russia was demonstrating 'military aggression that had no reason and no grounds'."
Ms Davidson said, at the time, US President Barack Obama, German Chancellor Angela Merkel and William Hague, the UK foreign secretary, had given their support to Ukraine.
She said of Mr Salmond's comments: "The first minister says that he wasn't wrong, but can he see why so many other people think that he was?"
Scottish Liberal Democrat leader Willie Rennie, added: "The first minister isn't a homophobe, nor does he support he Syrian regime - but he must realise that if he praises people who do, he diminishes himself."
Declining the offer to withdraw and apologise for the remarks, Mr Salmond told MSPs: "The first thing I said was I didn't approve of a range of Russian actions, by which I meant not just their attitude to Ukraine but also their attitude to human rights, particularly towards homosexuals.
"I said also I believed he had been underestimated by the Western press, I think that's pretty obvious now."
The first minister added: "I did express my admiration for certain aspects, by which I had in mind the restoration of Russian pride because I was speaking in the aftermath of the Sochi Olympics, indeed I was speaking during the Paralympics."
The first minister added that Scottish External Affairs Secretary Fiona Hyslop met the Russian Consul General in January to voice Scottish government "opposition to Russian policies on homosexuality", and that his government "expressed again to the Consul General our concern about Russian attitudes to Ukraine", in March.
"The Scottish government and my position on these aspects have been totally consistent throughout," added Mr Salmond, who criticised the opposition leaders for failing to condemn Russian actions in Ukraine.