Alex Salmond hopes England team will do well in Brazil World Cup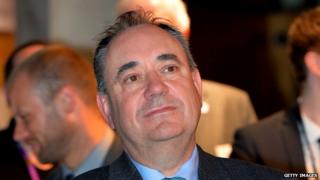 First Minister Alex Salmond has given his best wishes to the England football team ahead of this summer's World Cup.
As part of an interview with the magazine GQ, Mr Salmond said he wanted the "best side" to win, adding: "I hope England do well."
The political leader also spoke about his two stone weight loss saying he was following the 5;2 starvation diet.
The interview was conducted by Alastair Campbell, Tony Blair's former head of communications.
In a wide-ranging discussion which took place in Aberdeen in March, Mr Salmond discussed political and personal issues including the Scottish independence referendum, his career in politics, his views on other world leaders and Scotland's relationship with alcohol.
Asked by Mr Campbell who he would like to win the World Cup in Brazil, Mr Salmond replied: "The best side, I hope England do well. I support Scotland and good football."
Former journalist Mr Campbell was a Labour government spin doctor from 1997 to 2003 and is a supporter of the pro-Union Better Together campaign.
Weight loss
Mr Salmond said he "understood" why Wimbledon champion Andy Murray was "keeping his counsel" on which side of the referendum debate he supports.
Asked by Mr Campbell about his favourite food, the first minister revealed that his diet was going successfully.
He explained: "It used to be lamb curry, but I am this 5:2 diet.
"Don't tell me you didn't notice. I want to be down to 14 stone for the campaign. I was 17, now I'm 15."
Mr Salmond's GQ interview comments about Russian President Vladimir Putin have been criticised by political opponents in light of the recent violence and instability in Ukraine.
Asked whether he admired the Russian leader, Mr Salmond responded: "Certain aspects. He's restored a substantial part of Russian pride and that must be a good thing."