Scottish independence: Economist attacks proposed oil for debt deal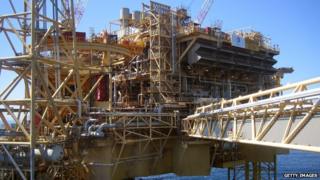 An economist has attacked suggestions that an independent Scotland could swap oil reserves for its share of UK debt.
Margaret Cuthbert told MSPs such a move would amount to an "oil grab".
A research institute proposed the deal as a "practical solution" to a continuing row over Scotland's share of the UK's debt.
Ms Cuthbert said it would be hard to reach agreement on the value of the remaining reserves.
The National Institute of Economic and Social Research (NIESR), had proposed the deal in its written submission to the Scottish Parliament's Finance Committee.
"NIESR has proposed a practical solution to partially mitigate the debt problem if Scotland becomes independent," the submission read.
"We propose a debt-for-oil swap which would leave both sovereign nations better-off. The idea actually offers a real 'free-lunch'.
"The tax revenue from North Sea oil is highly volatile. This volatility is more easily managed by a larger economy as the revenue variations would simply be a smaller share of total tax revenue."
Questioned by the committee, NIESR economist Angus Armstrong said it would be "irresponsible" for Scotland to walk away from its share of borrowing.
But he conceded that his organisation's proposal was conditional on the Scottish and UK governments agreeing the value of the remaining North Sea reserves
Ms Cuthbert, an independent economist, said: "To my mind this is just an oil grab that has been suggested."
She told the committee. which is examining Scotland's post-2014 public finances, there was a "huge difference" between the UK and Scottish governments' estimates of future oil revenues.
The Scottish government's estimates contrast with forecasts made by the Office for Budget Responsibility (OBR), the UK government's fiscal watchdog.
A recent Glasgow University report claimed that dumping a share of the UK's debt would be worth twice as much to an independent Scotland as North Sea oil.
Dr Armstrong also told the committee that there would be "consequences" for Scotland if it walked away from its share of UK debt.
Scottish ministers have previously threatened to withhold Scotland's share of the UK's debt if Westminster does not agree to share the pound in a currency union.
All three main parties at Westminster have stated they will not agree to a currency union if voters back independence in September's referendum.
Dr Armstrong said while such a move would not necessarily be regarded as a default, it would affect Scotland's reputation with other countries and credit rating agencies.
"I think it would be an irresponsible position and could have quite interesting consequences," he argued.
However, Ms Cuthbert argued: "We are in a very good position after independence as far as world markets go, because we would be capable of paying and a worthy debtor."