Cost of free personal care up by 162% in a decade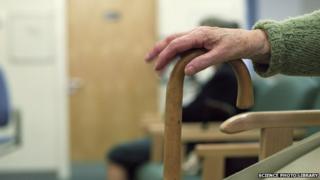 The cost of providing free personal care to elderly people in their homes has increased by 162% in the last decade.
Figures show that services such as washing and dressing cost £349m in 2012-13, up from £133m in 2003-04.
The Scottish government said the rise was due to more people being cared for at home rather than hospitals or care homes.
The health secretary said the figures highlighted the success of the policy.
Labour welcomed the rise in older people being cared for at home, but warned that costs and pressures would continue to rise due to Scotland's "demographic timebomb".
A report produced by Scottish government statisticians also showed that the bill for providing free personal and nursing care to "self-funding" residents in care homes increased from £86m to £116m over the same period - a rise of 35%.
Free personal care was introduced by the Scottish government in 2002, and the policy was reviewed in 2008, which led to a rise in payments.
About 48,000 older people now receive personal care at home, up from 33,000 in 2003-04.
Meanwhile, about 9,500 people living in care homes, considered "self-funding" as they have assets of more than £25,250, receive weekly payments to help cover the costs of personal and nursing care.
The remaining 21,000 care home residents in Scotland receive the help through public funding.
Over the period the overall number of hours of care provided to people in their own homes has risen from 226,000 to 398,400 - an increase of 76%.
Support
Health Secretary Alex Neil said the Scottish government remained "fully committed" to free personal care.
He added: "Free personal and nursing care improves the lives of 78,000 older, vulnerable people in Scotland.
"We want older people to be able to stay at home or in a homely setting within their own communities for as long as possible, and free personal and nursing care is ensuring that we can offer older people the support they need to make this a reality.
"These statistics also show that there has been a rise in the number of people with intensive care needs who are now being supported to remain at home for longer.
"The success of this policy continues to demonstrate that decisions made in Scotland benefit the people of Scotland."
Scottish Labour's wellbeing spokeswoman Rhoda Grant warned that as the demands of an ageing population rose, so would the cost of providing care and the pressures on staff, and called for a review.
"We already hear stories of care workers under extreme pressure and forced to carry out visits of 15 minutes or less so the demographic timebomb of an additional 1.5m older people in Scotland in 20 years' time must be addressed now," she said.
"This is one of the reasons we have called for Alex Neil to have a full-scale review of the health service to ensure that as it goes forward it is equipped to deal with the changing pressures the NHS will face."
Scottish Conservative health spokesman Jackson Carlaw said the party supported free personal care, but only if the policy was affordable.
"The problem is, the Scottish government has absolutely no idea how it will continue to fund it," he added.
"We've asked on several occasions for a plan to pay for it, particularly with our ageing demographic in mind, but still nothing has been published."