Margo's message: civilised debate and reconciliation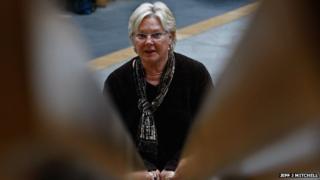 A remarkable day, a remarkable event.
Despite the dull April weather, sunshades were advisable as those attending responded vividly and competitively to Margo MacDonald's explicit request to wear bright clothes.
The Proclaimers (one being the former MSP's son in law) gave a brilliant rendering of their song - and Hibs anthem - "Sunshine on Leith", to mark Margo's footballing allegiance. In the audience, lifelong Jambos such as the first minister swayed appreciatively.
Bob Scott, the humanist celebrant, took charge admirably. Alex Neil insisted that only tears of joy were permissible - then almost broke his own rule as he delivered a passionate oration of praise for his lost friend.
Elaine C Smith opened with a wickedly comical hierarchy - lumping politicians close to the bottom of the social heap. (Below them? Bankers and, yes, the wicked media.)
Her speech was hugely funny - but with a serious and well-argued reminder of Margo's impact and political importance.
I am sure, however, that they will all forgive me if I dwell particularly upon the speech delivered by Jim Sillars, Margo's husband for more than thirty years.
He opened with a brilliant self-effacing pastiche - or perhaps documentary account - of his own chosen role as a put-upon spouse.
It was dry and droll as befits a man who once apparently told a campaign audience: "It's OK for you. You're goin' hame tae yer tea. Ah'm goin' back tae a public meetin'!"
But he soon turned to his purpose. A message, he said, conveyed directly to him by his wife in her last days and weeks - just after she instructed the tradespeople on work to be done to improve their home.
She fretted, he explained, about the lasting impact of the referendum. Scotland was, by definition, divided. Would those divisions persist? Would they prove corrosive?
She urged vigorous but civilised debate during the campaign - plus an end to hostility at "one minute past ten", immediately after the polls close on September 18.
It was a powerful message, powerfully delivered. It drew sustained applause - a standing ovation indeed - from everyone in the audience, including leading representatives of both sides in the referendum campaign.
Will this message be entirely heeded, at all points and in all quarters? No. But might it just prove influential? Might it offer an impetus towards sensible, moderate debate and away from raw, hideous discord?
Perhaps. Just perhaps.