Alex Salmond defends Kenny MacAskill over corroboration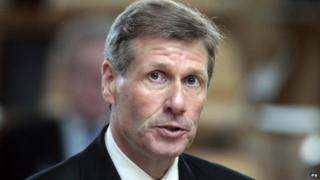 First Minister Alex Salmond has been forced to defend his justice secretary over the handling of controversial Scottish government legal reforms.
Kenny MacAskill has put plans to end the general requirement to corroborate evidence in criminal trials on hold, until after the outcome of a review.
Opposition leaders branded his handling of a previous debate on the issue as disgraceful and shameful.
But Mr Salmond told parliament he had complete confidence in Mr MacAskill.
The government has said the need for evidence in Scottish criminal trials to come from two sources was denying victims justice, including those who have been sexually assaulted.
The change, contained in the Scottish government's Criminal Justice Bill, is backed by police and prosecutors.
But there has been fierce opposition from other sections of the legal profession, who have raised concern of an increased risk of miscarriages of justice.
MSPs passed the bill in principle, during a bad-tempered debate in February in which Mr MacAskill attacked Labour, the Conservatives and Liberal Democrats for their joint position against independence.
He told parliament: "We know that the Better Together campaign extends beyond the constitutional remit to other aspects."
The justice secretary also said at the time: "Labour has sold its soul and is in danger of selling out the victims of crime."
However, following opposition calls for a delay, the bill will not continue through parliament until after a review on additional safeguards which may be required alongside the change is completed in April next year.
During first minister's questions, Scottish Labour leader Johann Lamont said serious reservations about the legislation had not been addressed.
She said of the review, which is being conducted by former High Court judge Lord Bonomy: "Kenny MacAskill came up with a genius idea - set up an expert group to scrutinise the bill, which will report after the legislation was passed.
"After Kenny MacAskill's disgraceful performance in this chamber six weeks ago and this embarrassing climb down, I ask the first minister, in all seriousness, does he believe this has been an appropriate way to take through legislation on an issue of this importance?"
Ruth Davidson, the Conservative leader, said Mr MacAskill's speech in February was seen by many, including SNP members, as "the most ill-judged and intemperate in the history of this parliament".
"In it, he claimed those with principled objections to the abolition of a key tenet of Scots law were part of nothing more than a Unionist conspiracy. His performance was shameful to watch," she said.
"Now that the justice secretary has been forced into a climb down, does the first minister accept Kenny MacAskill's claim that opposition parties were selling out the victims of crime because of our constitutional beliefs was as wrong as it was offensive?"
Defending Mr MacAskill's record, the first minister said: "I'll tell you why I have got confidence in this justice secretary - because we have 1,000 extra police on the streets and in communities of Scotland thanks to this justice secretary.
"Recorded crime in Scotland is down by 35% thanks to this justice secretary, violent crime is down by almost a half under the office of this justice secretary and crimes of handling offensive weapons are down 60%, and above all, people's fear of crime in Scotland is dropping for the first time.
"All of these comparisons, under this justice secretary, are comparisons with when the Labour Party was last in government and the people of Scotland knowing and appreciating these things know that this government has discharged its responsibilities to the communities of Scotland in a way that no previous devolved administration managed."